---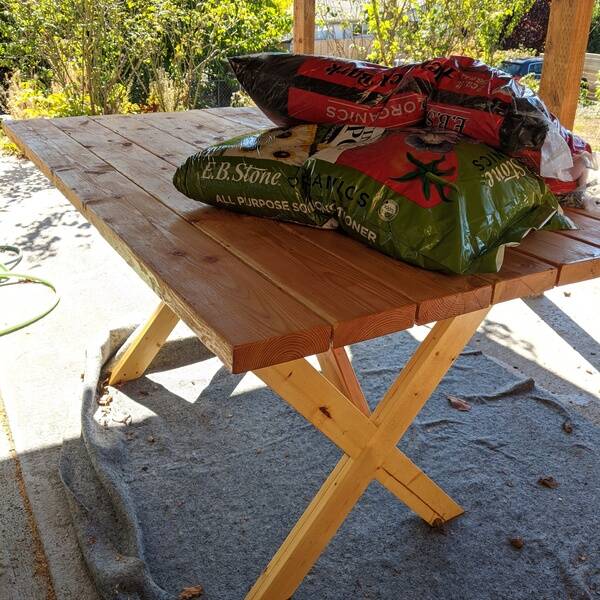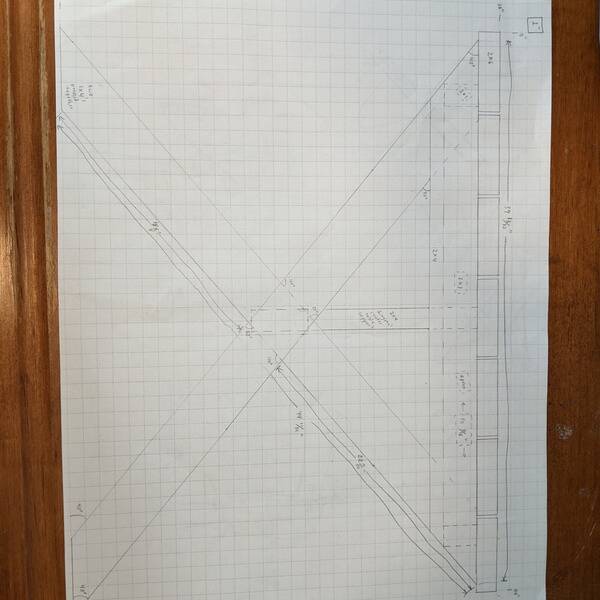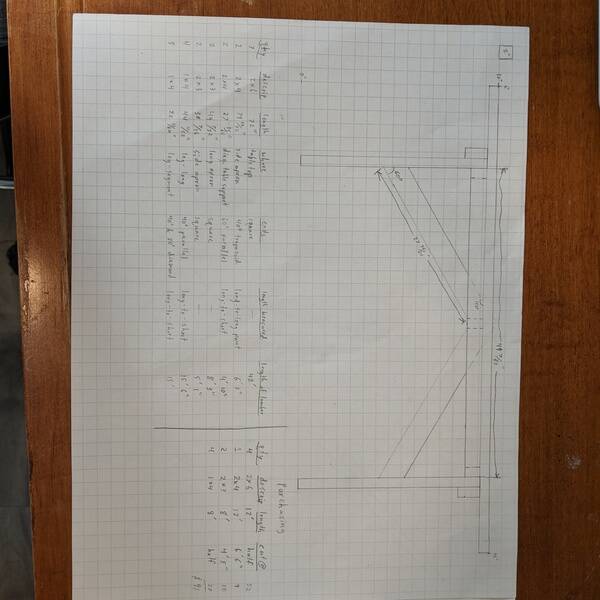 I mostly copied the design from Ana White. I foolishly decided to change the angles, since I had just bought a miter saw. It added complexity for not much benefit. I wish I'd made the gaps between the table's 2x6's larger, .5" instead of .25", only because it's too narrow to paint the polyurethane.
https://ana-white.com/woodworking-projects/classic-x-picnic-table-no-benches
The cut list is in the picture as well as here. Note that the angles are different, depending on how you measure the angle. These are the angles you'd set on the miter:
qty. dim. length dscrp. cut ends measured
7 2x6 72" tabletop square --
2 2x4 39 13/32" side apron 50deg trapezoid long-to-long point
2 2x4 27 35/64" diag. table support 30deg parallel long-to-short
2 2x3 49 7/32" long apron square --
2 2x3 30 7/16" short apron square --
4 1x4 44 11/32" leg-long 50deg parallel long-to-short
8 1x4 22 11/64" leg-segment 50deg & 10deg diamond long-to-short
Show More
---
---
Members Also Viewed
back to top?
Please confirm your email address.
Select some categories to pick the kinds of projects that show up on your home page:
Welcome to your RYOBI Nation quick start guide, a fast and easy way to see everything that's waiting for you!
Your feed shows the latest projects from the categories you've selected, right on your homepage!
Are you working on something awesome? Upload your DIY projects today, and share with other members.
We award monthly and annual prizes for the best projects, worth up to $2500 in RYOBI tools! That's a lot of hardware, and it could all be yours.
RYOBI Nation is a positive connection between people who are creating great things.
You can follow fellow members, like their projects, and comment to let them know they're doing a great job.
Come back to RYOBI Nation often to see what is new and to stay in touch.
If you're on a mobile device, don't forget you can add RYOBI Nation to your home screen for quick access to your project feed.
---
Picnic Table - detached benches
by AGennis
Sep 27, 2020
I mostly copied the design from Ana White. I foolishly decided to change the angles, since I had just bought a miter saw. It added complexity for not much benefit. I wish I'd made the gaps between the table's 2x6's larger, .5" instead of .25", only because it's too narrow to paint the polyurethane. https://ana-white.com/woodworking-projects/classic-x-picnic-table-no-benches The cut list is in the picture as well as here. Note that the angles are different, depending on how you measure the angle. These are the angles you'd set on the miter: qty. dim. length dscrp. cut ends measured 7 2x6 72" tabletop square -- 2 2x4 39 13/32" side apron 50deg trapezoid long-to-long point 2 2x4 27 35/64" diag. table support 30deg parallel long-to-short 2 2x3 49 7/32" long apron square -- 2 2x3 30 7/16" short apron square -- 4 1x4 44 11/32" leg-long 50deg parallel long-to-short 8 1x4 22 11/64" leg-segment 50deg & 10deg diamond long-to-short
Project Information

| | |
| --- | --- |
| Difficulty: | Intermediate |
| Inspired By: | Ana White |
| Categories: | Furniture, Exterior Spaces |

Tools Used

18V ONE+™ 2-SPEED1/2 IN. DRILL/DRIVER KIT

Materials Used

MITER SAW
POCKET HOLE JIG
POCKET HOLE SCREWS
1.25" EXTERIOR SCREWS
2X6X12
2X4X12
2X3X8
1X4X8
POLYURETHANE