Return to Projects Listing
Outdoor Loveseat Glider
I was inspired by the outdoor sofa built from 2x4s by Ana White but wanted to change it slightly to make it unique. With a friend's help, we came up with this plan for a loveseat glider. We decided to build 2 (one for each of us), and to build the first one from start to finish before beginning the second one. I'm glad we did it this way because after we built the top seat portion and the separate base, we had to make some further modifications to our plans so that the loveseat would actually MOVE! The glider hardware did not have instructions as to how far horizontal spacing should be from the top and bottom bolts, so we had some trial and error, until we found the sweet spot, which allowed this heavy loveseat to glide smoothly and easily. I LOVE how it turned out and the 2nd time we built it, it only took 6 hours from first cut to the final tightening of the last nut (compared to 2 full days for the first time). I also love how impressed our husbands and kids were with how well this turned out! I'm glad we chose a plan that used basic 2x4s. It made it less intimidating, especially since we didn't need a lot of expensive tools to build it. I learned so much from this project, but my favorite was how much more fun (and safe) it can be when you work with a friend!
---
---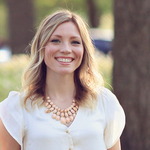 Project Information
Difficulty: Intermediate
Tools Used:
Materials Used:
Weather-treated Cedar Stained Pine 2x4s

Glider brackets (4 total in 1 package)

4, 3.5" 1/4-20 bolts

4, 4" 1/4-20 bolts

8 lock tight nuts, 1/4-20

8 large washers, fitting 1/4-20

2.5" exterior screws

12, 2 1/2" pocket hole screws.
---
Related Projects