Return to Projects Listing
Hexagon Shelf - Reclaimed Wood
I wanted to test my skill set a little further by setting myself a project that involved miter cuts and shelving. So why not a hexagon shelf ! The initial sizing was pretty straight forward as was the miter cuts, the gluing and brad nailing the 30 degree cuts were what i had worried about. A tad fiddly but i got there in the end. I had not initially though of a backing to the shelf, i had a spare piece of ply so thought why not. The colour scheme is in uniform to our hallway which initially were i had thought on hanging it.
---
---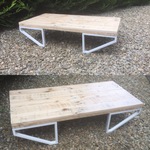 Project Information
Difficulty: Intermediate
Materials Used:
Scrap reclaimed wood, glue , brad nails , 120 grit sand paper, white and grey paint.
also by Iupcycle
---
Related Projects