Return to Projects Listing
Nerf Gun Rack
I am a disabled Veteran. I became fully disabled in 2013 and spent 18 months at the Portsmouth Naval Hospital. I reside in Boiling Springs, S.C... I suffer from PTSD and I have titanium holder my back together and unable to get around.
The VA has me doing hand eye coordination therapy. Due to financial issues from my disabilities, I have slowly begun to purchase Ryobi 18-volt battery tools.
I completed a Nerf gun rack for my nine year old. What would take a normal person to complete in one hour took me four hours. I know it sounds funny, but I am proud to complete the mission and proud of Ryobi 18-volt tools.
---
---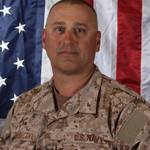 Project Information
Difficulty: Intermediate
---
Related Projects