Return to Projects Listing
Motorcycle rocker for my grands son.
I made a motorcycle rocker for my grandson. Initially, I had looked at store bought plans but they were for profile rockers only. I decided to make one using my own ideas. I made the bike from left over materials to some furniture projects I did for my grown children. The bike took me about 200 hrs or so and the base was made from hickory. I made the spindles from ash, wheel from ash & cherry. I turned the cylinders from left over ambrosia maple, & and the headlight from various different scrap wood. I used pen tubes for bushings for the handle bars. The tank was made from solid cherry and the gauges were made from walnut. I used 8 coats of brush on lacquer. I used Ryobi drill press, 4"/6" disc sander, 18v drill and Ryobi bench planer. I purchased them at a Home Depot that is near my home. I like the quality and price of Ryobi tools. The tools are reliable and have good safety features. My grandson loves the rocker. I always enjoy building things for the ones I love. It brings out the best in me.
---
---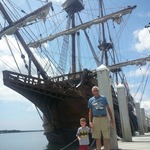 Project Information
Difficulty: Advanced
also by Meno11
---
Related Projects