Return to Projects Listing
Modern Bookshelf
Turn a basic bookshelf into a modern masterpiece with a few customizations! This easy to build bookshelf features three large shelves, and two taller, shorter shelves, perfect for displaying storing your necessities or collections - think boots and shoes in the entryway or servingware in your dining room. Try caster wheels instead of feet and a reclaimed wood back for an industrial style. Or use taller legs to bring the height of the bookshelf up - this one's your's to customize to fit you and your home perfectly and beautifully!
Cutting Instructions:
Cut all of your boards first. If you are using sheet goods (MDF, Plywood or Particle Board) for the sides and shelves (1x12 boards), rip the sheet goods to 11-¾" widths, 8 feet long, with a circular saw or table saw. Then cut the ripped pieces to length as specified in the cut list.
2 - 1x12 @ 48"
3 - 1x12 @ 46-1/2"
2 - 1x12 @ 29-3/4"
1 - 1x12 @ 16"
1 - 1/4" sheet MDF @ 48" x 48"
2 - 1x2 @ 45"
2 - 1x2 @ 48"
Videos
---
Steps
---
---
---
---
---
---
---
---
---
---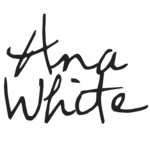 Project Information
Difficulty: Easy
Tools Used:
Materials Used:
(4) 1x12x8' boards (prefer MDF for paint) or ¾" thick sheet goods ripped 11-¾" x 8' long
(2) 1x2x8' boards (prefer MDF for paint)
(4) Leg Mounting Plates
Screws for attaching mounting plates to bottom
(4) 12" Tapered Legs
¾" and 1-1/4" staples
Wood glue
Wood filler
Sandpaper
Wall paper and adhesive (if required)
also by Ana White
---
Related Projects
---