Return to Projects Listing
Maple and Poplar Chess Board!
Well I wanted to make something for my girlfriend for her birthday. She has recently gained interest in chess and so I began the teaching. Lots of games ending in my favour. :) My biggest struggles occurred when I was attempting to laminate the tiles together. I didn't really realize how much my clamps would cause the board to bend after I walked away for the night. When I came back to the board the four corners had bent up quite a bit, but to solve that I just put a bit of weight on the bottom of the board and bent it back to flat. For the legs I used small rounds from a wood pile. She lives on an Island on the west coast of Canada, so I wanted it to have a cool forrest look to it.
---
---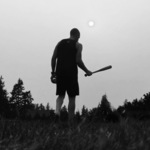 Project Information
Difficulty: Easy
Tools Used:
---
Related Projects