---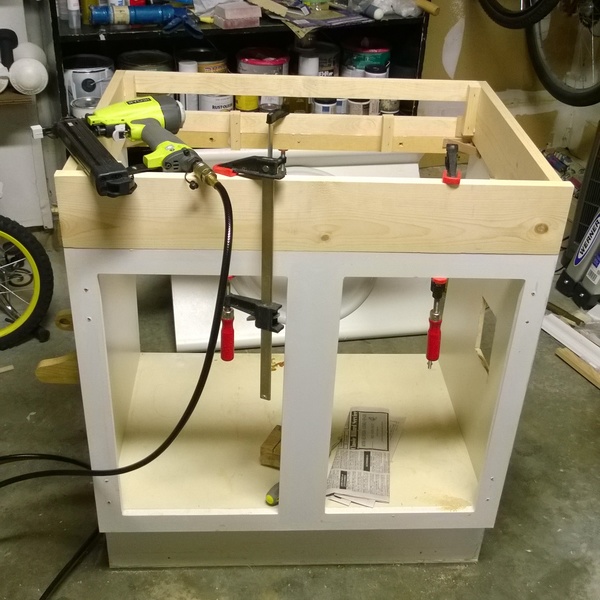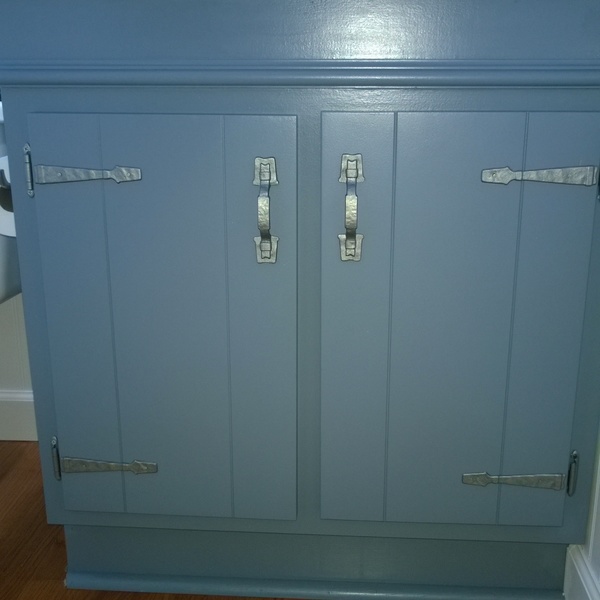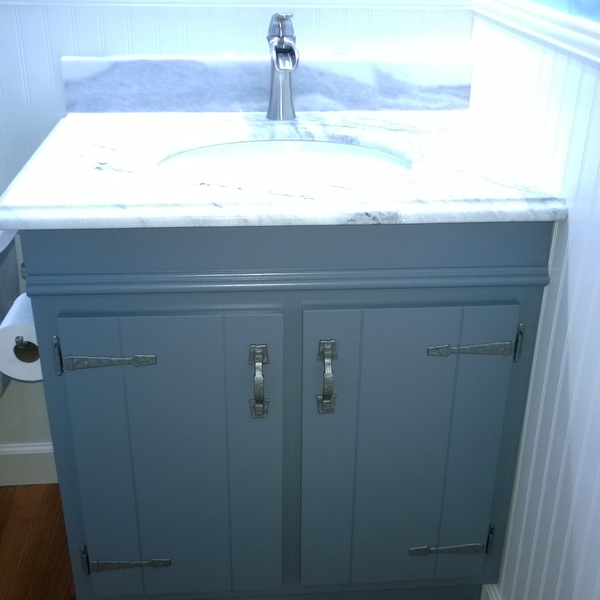 We are upgrading our powder room with a $1,000 budget. However we quickly discovered that you can easily spend $1,000 in a new sink, granite and the fixtures. So we did not have money for a new vanity but we had a really short vanity less 29" you literally had to bend to wash your face so we decided to give a shot and try make the existing vanity taller following these steps:
1. Removed the old vanity
2. Created a 5" tall wood frame to put on top of the vanity
3. Glued and nailed the frame
4. Put some molding to cover union between the top of the vanity and the frame
5. Switched the doors from an old vanity that was laying around.
6. Primed and painted the vanity with BM advance paint.
This was my first time doing this type of modification and I think it turned pretty well and the vanity felt stronger with the wood frame but the most important thing. Wife is happy with it and we saved $400
Cheers
Show More
---
---
Members Also Viewed
back to top?
Please confirm your email address.
Select some categories to pick the kinds of projects that show up on your home page:
Welcome to your RYOBI Nation quick start guide, a fast and easy way to see everything that's waiting for you!
Your feed shows the latest projects from the categories you've selected, right on your homepage!
Are you working on something awesome? Upload your DIY projects today, and share with other members.
We award monthly and annual prizes for the best projects, worth up to $2500 in RYOBI tools! That's a lot of hardware, and it could all be yours.
RYOBI Nation is a positive connection between people who are creating great things.
You can follow fellow members, like their projects, and comment to let them know they're doing a great job.
Come back to RYOBI Nation often to see what is new and to stay in touch.
If you're on a mobile device, don't forget you can add RYOBI Nation to your home screen for quick access to your project feed.
---
Making a taller powder room vanit..
by Melvin V
Jan 12, 2016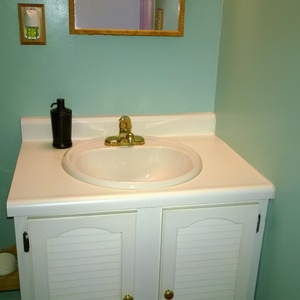 We are upgrading our powder room with a $1,000 budget. However we quickly discovered that you can easily spend $1,000 in a new sink, granite and the fixtures. So we did not have money for a new vanity but we had a really short vanity less 29" you literally had to bend to wash your face so we decided to give a shot and try make the existing vanity taller following these steps: 1. Removed the old vanity 2. Created a 5" tall wood frame to put on top of the vanity 3. Glued and nailed the frame 4. Put some molding to cover union between the top of the vanity and the frame 5. Switched the doors from an old vanity that was laying around. 6. Primed and painted the vanity with BM advance paint. This was my first time doing this type of modification and I think it turned pretty well and the vanity felt stronger with the wood frame but the most important thing. Wife is happy with it and we saved $400 Cheers
Project Information

| | |
| --- | --- |
| Difficulty: | Easy |
| Categories: | Furniture, Renovations |

Tools Used

VARIABLE SPEED JIG SAW WITH SPEEDMATCH™
18V ONE+™ AIRSTRIKE™ 18GA BRAD NAILER AND 16GA FINISH NAILER COMBO KIT (ONLINE ONLY)

Materials Used