Return to Projects Listing
LOG LOUNGE
Our partner RYOBI asked us to do an Earth Day project that would demonstrate how eco friendly tools like their 18 Volt Chainsaw could be used to transform waste into usable home furnishings.
The log lounge chair is a great way to turn yard waste that would otherwise end up in landfill or a fireplace into sturdy outdoor furniture.
We had a lot of fun trying out our new RYOBI 18 Volt Chainsaw and are proud to present an affordable modern piece of furniture that was made from waste and clean running electric tools.
Steps
---
---
---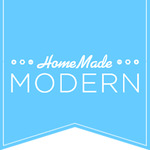 Project Information
Difficulty: Easy
Tools Used:
Materials Used:
Logs 3"- 6" in Diameter

Lag screws 6" - 9" Long

Brackets and Deck Screws
also by Homemade Modern
---
Related Projects