From 09:00 AM (EST) on February 27, 2021 until 09:00 PM (EST) on February 27, 2021, this site will be under maintenance.
Please be aware that some of the site functionality will be unavailable during this time.
---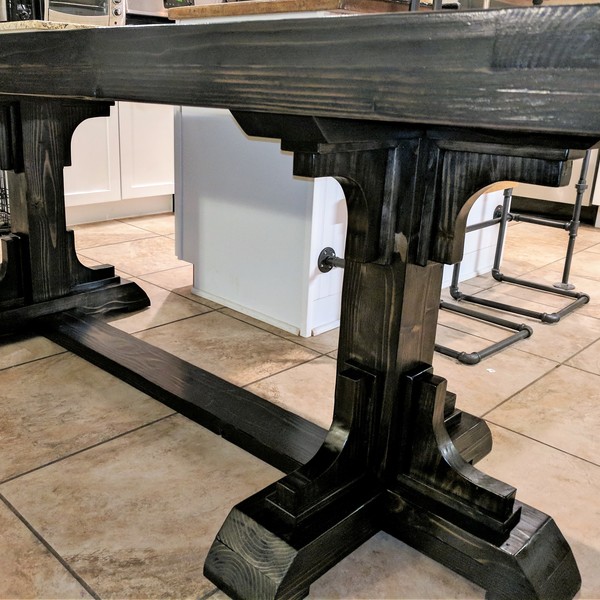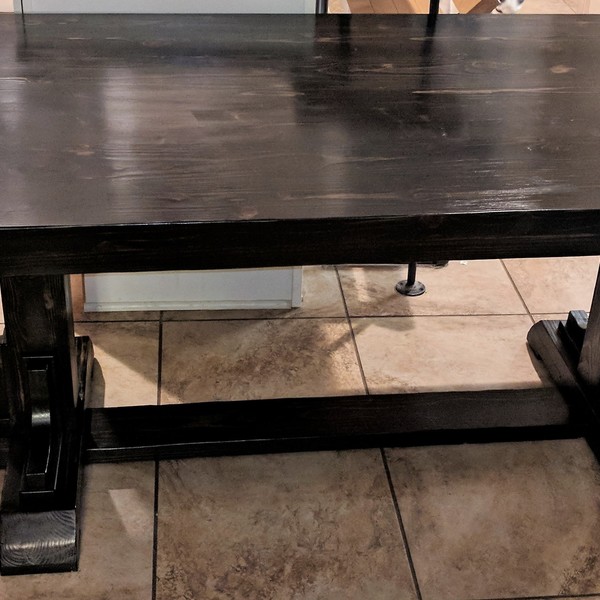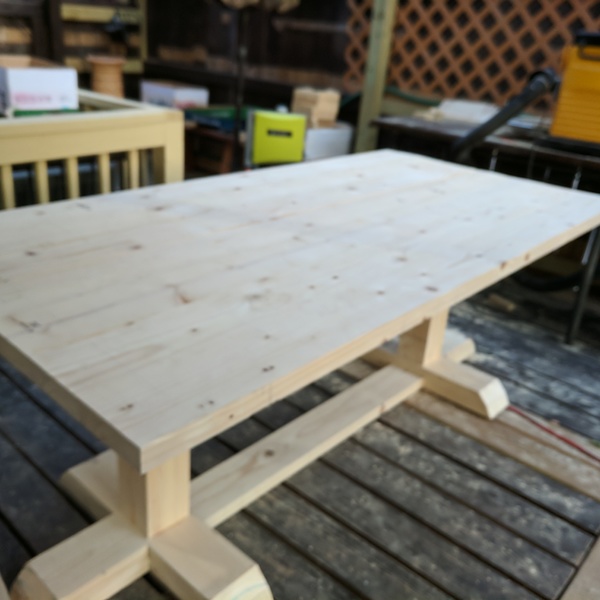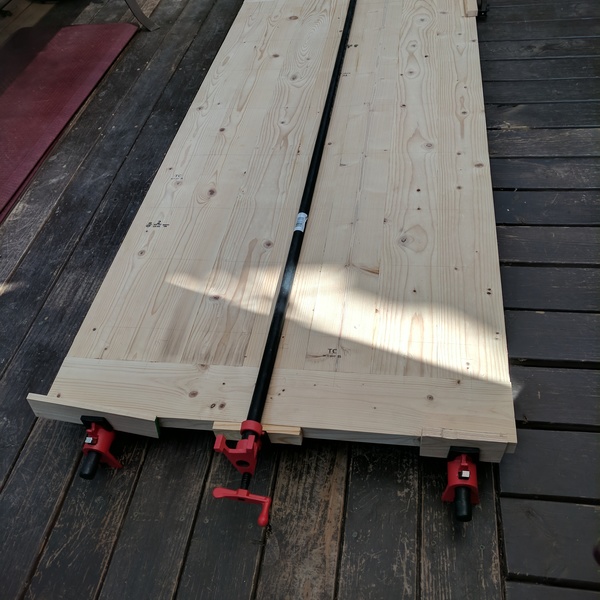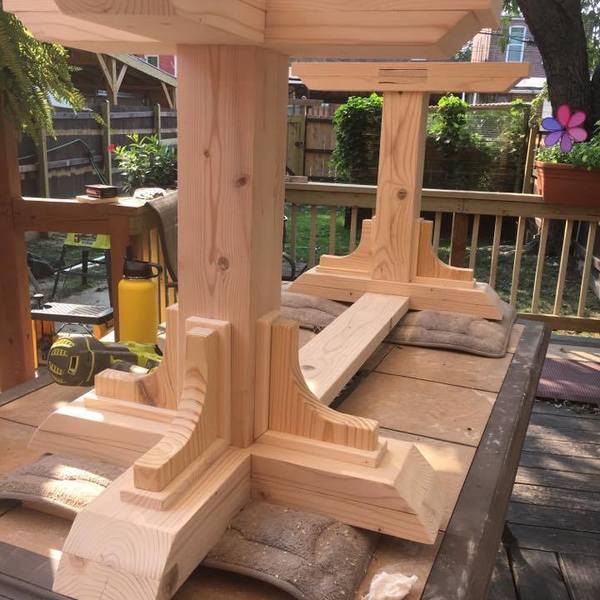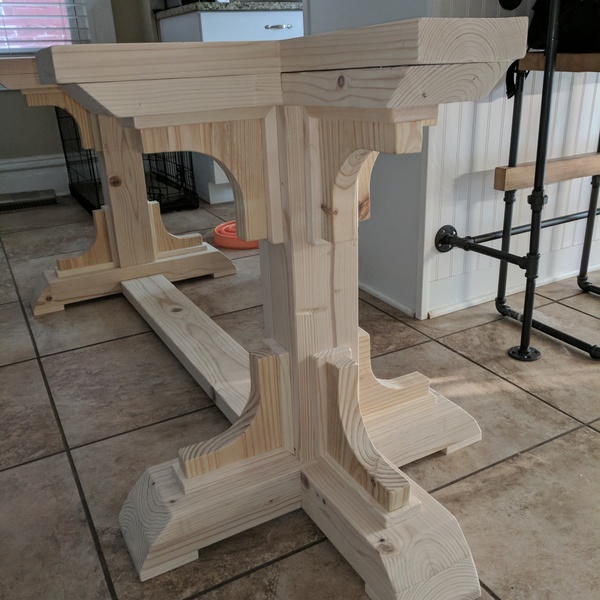 A friend needed a table for a kitchen nook they had that was missing a table. The table measures 36"x82". Building it was pretty straightforward and fun but time consuming. This was the first table top I've done with solely glue and biscuits. I used 14 2x6s and some scrap 1xs and a scrap 2x10 for the trim. First I ran all the boards through the table saw to trim the rounded edges off, then ran them through my bench top thickness planner to clean it all up and ensure everything was straight. I cut the top boards to length, cut the biscuit holes, then glued it all up and put the top into clamps. For the base I measured as I went, cut and assembled, the base is all lap joints. The trim was cut with the band saw and sanded with the bench top sander, which saved a ton of time. I filled in all the gaps with wood filler and sanded up to 400 grit. We stained it with Minwax Ebony Stain and finished it with Polycrylic
Show More
---
---
Members Also Viewed
back to top?
Please confirm your email address.
Select some categories to pick the kinds of projects that show up on your home page:
Welcome to your RYOBI Nation quick start guide, a fast and easy way to see everything that's waiting for you!
Your feed shows the latest projects from the categories you've selected, right on your homepage!
Are you working on something awesome? Upload your DIY projects today, and share with other members.
We award monthly and annual prizes for the best projects, worth up to $2500 in RYOBI tools! That's a lot of hardware, and it could all be yours.
RYOBI Nation is a positive connection between people who are creating great things.
You can follow fellow members, like their projects, and comment to let them know they're doing a great job.
Come back to RYOBI Nation often to see what is new and to stay in touch.
If you're on a mobile device, don't forget you can add RYOBI Nation to your home screen for quick access to your project feed.
---
Kitchen Nook Farmhouse Table
by Tjbaum
Sep 21, 2017
A friend needed a table for a kitchen nook they had that was missing a table. The table measures 36"x82". Building it was pretty straightforward and fun but time consuming. This was the first table top I've done with solely glue and biscuits. I used 14 2x6s and some scrap 1xs and a scrap 2x10 for the trim. First I ran all the boards through the table saw to trim the rounded edges off, then ran them through my bench top thickness planner to clean it all up and ensure everything was straight. I cut the top boards to length, cut the biscuit holes, then glued it all up and put the top into clamps. For the base I measured as I went, cut and assembled, the base is all lap joints. The trim was cut with the band saw and sanded with the bench top sander, which saved a ton of time. I filled in all the gaps with wood filler and sanded up to 400 grit. We stained it with Minwax Ebony Stain and finished it with Polycrylic
Project Information

| | |
| --- | --- |
| Difficulty: | Intermediate |
| Categories: | Furniture |

Tools Used

4 IN. X 36 IN. BELT /DISC SANDER
10 IN. TABLE SAW WITH STEEL STAND
3 1/4 IN. PORTABLE HAND PLANER
12 IN. SLIDING COMPOUND MITER SAW WITH LASER
18V ONE+™ COMPACT DRILL/DRIVER KIT
18V ONE+™ CORNER CAT™ FINISH SANDER
18V ONE+™ 5 IN. RANDOM ORBIT SANDER
18V ONE+™ BRUSHLESS BELT SANDER