Return to Projects Listing
Kitchen Herb Planter
I built this Kitchen Herb Planter out of an old Pallet and some re-purposed kitchen containers from a local Salvation Army. I started by cutting my pallet sides off with a jigsaw so I could use a hammer to remove the slats on the front and back side of the pallet. Using my mitersaw I cut the boards down to lengths that fit my table. Using a small drill bit I drilled pilot holes for my screwed on either side of the longest boards. I then used my drill to screw together the main box shape. After the side were built together I needed to create a bottom piece. I cut the piece to size using my miter saw and like earlier used a drill to create pilot holes for the screws. Using a hammer I molded two old large pieces of servingware into handles and used short screws and nuts to hold them in place on the box.
After my box was built I purchased herb plants from a local nursery, and planted them in the old kitchen containers. When planting you want to make sure you leave room for excess water to run to so you don't rot the roots of your plants. I filled each container halfway with rocks before adding my plants to allow for drainage.
I used write rocks to hold the containers securely in place i my box. Finally I took old corks and added them to skewers to create a place to write the name of each of the plants.
---
---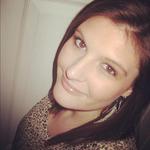 Project Information
Difficulty: Intermediate
---
Related Projects