---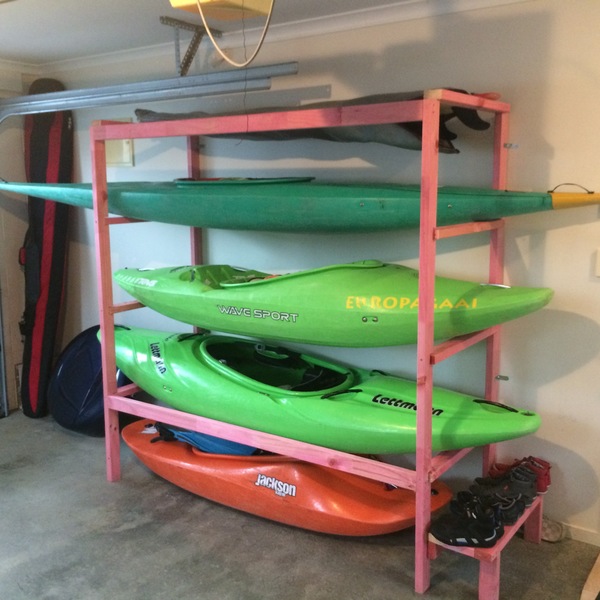 My flatmate and I are both really into whitewater kayaking. I've got 2 kayaks: a creek and playboat (a surfboard too) and he has a creek one and a slalom. We moved into a house a single garage and not much space to keep all our gear so decided to make a rack to store neatly our kayaks.
It had to be strong to take the weight of 4 kayaks, it had to be cheap as we hadn't much money left for this project after spending on house stuff. It had to be easy to do as we had very few tools available. And it had to have minimum screw into the wall as it was a rental house
So looked a different options and two wooden ladder frame connected by two beam for stability (and hanging clothes to dry) seemed the best way to do it. I was even able to use the left over of wood to make a show rack :)
Show More
---
---
Members Also Viewed
back to top?
Please confirm your email address.
Select some categories to pick the kinds of projects that show up on your home page:
Welcome to your RYOBI Nation quick start guide, a fast and easy way to see everything that's waiting for you!
Your feed shows the latest projects from the categories you've selected, right on your homepage!
Are you working on something awesome? Upload your DIY projects today, and share with other members.
We award monthly and annual prizes for the best projects, worth up to $2500 in RYOBI tools! That's a lot of hardware, and it could all be yours.
RYOBI Nation is a positive connection between people who are creating great things.
You can follow fellow members, like their projects, and comment to let them know they're doing a great job.
Come back to RYOBI Nation often to see what is new and to stay in touch.
If you're on a mobile device, don't forget you can add RYOBI Nation to your home screen for quick access to your project feed.
---
Kayak rack
by amaurysciard
Sep 08, 2015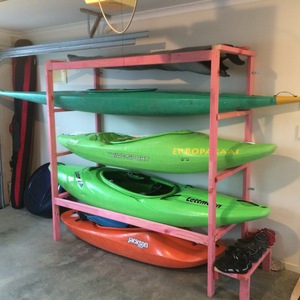 My flatmate and I are both really into whitewater kayaking. I've got 2 kayaks: a creek and playboat (a surfboard too) and he has a creek one and a slalom. We moved into a house a single garage and not much space to keep all our gear so decided to make a rack to store neatly our kayaks. It had to be strong to take the weight of 4 kayaks, it had to be cheap as we hadn't much money left for this project after spending on house stuff. It had to be easy to do as we had very few tools available. And it had to have minimum screw into the wall as it was a rental house So looked a different options and two wooden ladder frame connected by two beam for stability (and hanging clothes to dry) seemed the best way to do it. I was even able to use the left over of wood to make a show rack :)
Project Information

| | |
| --- | --- |
| Difficulty: | Easy |
| Inspired By: | Ana White |
| Categories: | Recreation, Construction, Garage |

Tools Used

Materials Used