Return to Projects Listing
House Build in Thailand
I am building a steel rafter roof with aluminium battens and concrete tiles. The rafters are 10m Fink constructed from 1.5mm rolled steel C section. I am using Tek screws to fix everything. To date I have installed over 8000 Tek screws using a Ryobi One+ impact driver.....it's a brilliant tool and hasn't let me down in temperatures of 40 Celsius and high humidity. I'm also using a One+ drill which is also performing brilliantly.
---
---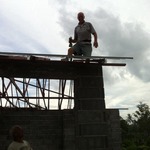 Project Information
Difficulty: Advanced
Materials Used:
Steel. Aluminium. Tek screws. Plus usual blocks, cement, sand etc.
---
Related Projects