---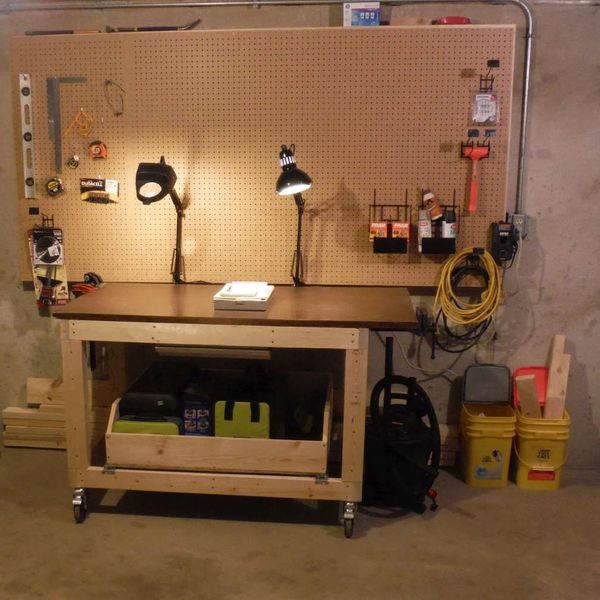 I have been tinkering on a salvaged wooden teacher's desk in our utility room, but I need an actual workbench. In addition to being a sturdy base for banging on stuff; I wanted 2 adjustable lights (one with a magnifier), a minimum of 4 x 110v outlets, a small vise, and storage for my larger tool boxes. I also wanted the ability to roll it around when I am working on something big, like a car, so that I can swing the lights over the engine bay.
Like most of my projects I tend to overthink them, and write it in a little notebook. I keep doodling away until I get the time and money to work on them. I started with the sketch above, although I deviated as I went, the end result wound up being both functional and good looking.
The Full Buildlog and directions are on my instructables feed.
http://www.instructables.com/id/Heavyduty-Workbench-Shop-Cart
Show More
---
---
Members Also Viewed
back to top?
Please confirm your email address.
Select some categories to pick the kinds of projects that show up on your home page:
Welcome to your RYOBI Nation quick start guide, a fast and easy way to see everything that's waiting for you!
Your feed shows the latest projects from the categories you've selected, right on your homepage!
Are you working on something awesome? Upload your DIY projects today, and share with other members.
We award monthly and annual prizes for the best projects, worth up to $2500 in RYOBI tools! That's a lot of hardware, and it could all be yours.
RYOBI Nation is a positive connection between people who are creating great things.
You can follow fellow members, like their projects, and comment to let them know they're doing a great job.
Come back to RYOBI Nation often to see what is new and to stay in touch.
If you're on a mobile device, don't forget you can add RYOBI Nation to your home screen for quick access to your project feed.
---
Heavy Duty rolling Workbench
by MoTinkerGNome
Sep 11, 2015
I have been tinkering on a salvaged wooden teacher's desk in our utility room, but I need an actual workbench. In addition to being a sturdy base for banging on stuff; I wanted 2 adjustable lights (one with a magnifier), a minimum of 4 x 110v outlets, a small vise, and storage for my larger tool boxes. I also wanted the ability to roll it around when I am working on something big, like a car, so that I can swing the lights over the engine bay. Like most of my projects I tend to overthink them, and write it in a little notebook. I keep doodling away until I get the time and money to work on them. I started with the sketch above, although I deviated as I went, the end result wound up being both functional and good looking. The Full Buildlog and directions are on my instructables feed. http://www.instructables.com/id/Heavyduty-Workbench-Shop-Cart
Project Information

| | |
| --- | --- |
| Difficulty: | Easy |
| Categories: | Workshop, Garage |

Tools Used

Materials Used

THE TOP IS A 2.5X5' STEEL CASE DESK TOP 1.5 INCH THICK MDF WITH FORMICA
FROM THE SAME DESK THE CENTER METAL PENCIL/PAD DRAWER
1 PAIR HEAVY DUTY BALL BEARING, SERVER RAILS
SURGE SUPPRESSOR & 12 GAUGE HEAVY DUTY EXTENSION CORD.
ALVIN MAGNIFIER SWING-ARM LAMP BLACK $25
ALVIN G2540-B SWING ARM LAMP, BLACK $18
OLYMPIA TOOLS 38-736 6-1/2" HOBBY WOODWORKER'S VISE $20
HEAVY-DUTY 5 IN. SWIVEL CASTERS WITH DOUBLE-LOCK BRAKE 600LB PER WHEEL
2"X4"X8' – 16 PREMIUM GRADE (USED 11) $3 EACH
8OZ GORILLA GLUE $3.49
#10 2¾" GRK UBER-GRADE CONSTRUCTION SCREWS 100CT $7.78
#8 1½" GRK UBER-GRADE CONSTRUCTION SCREWS 110CT $6.28
1"X10"X10' PINE BOARD $9
1"X6X10" PINE BOARD $5.75
3 PACK 14W CFL LIGHT BULBS $5
1 FULL SHEET OF PEGBOARD $14
#10 WASHERS (FOR THE WHEEL SCREWS)
SANDPAPER