---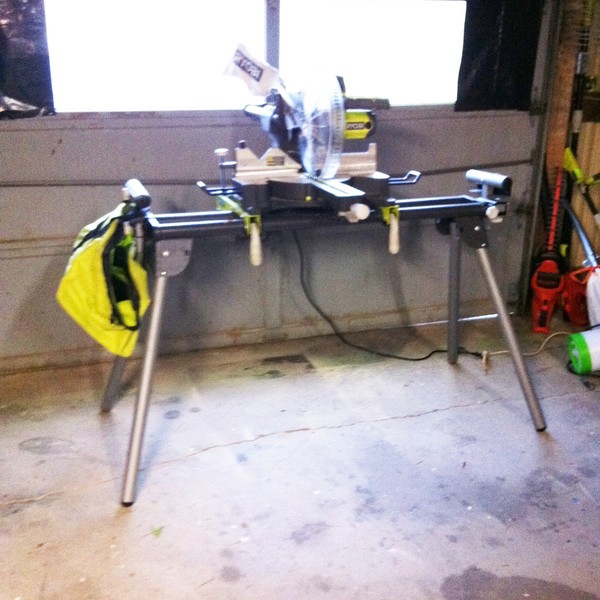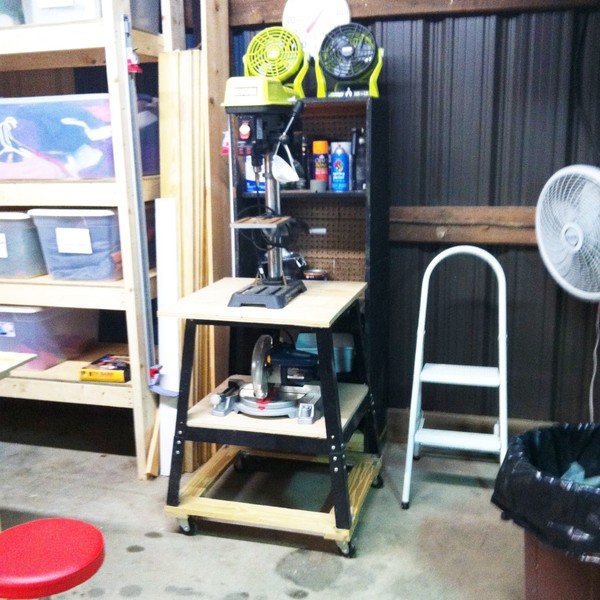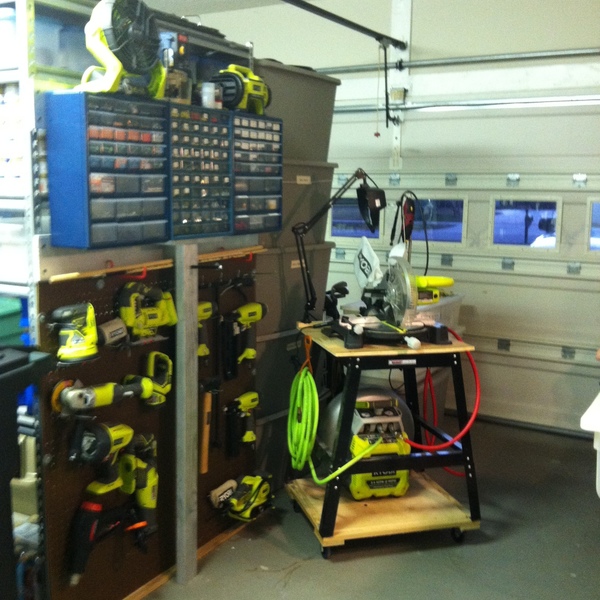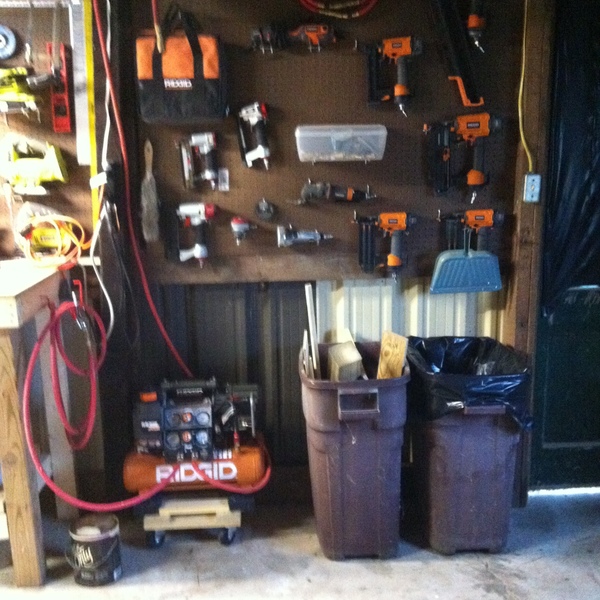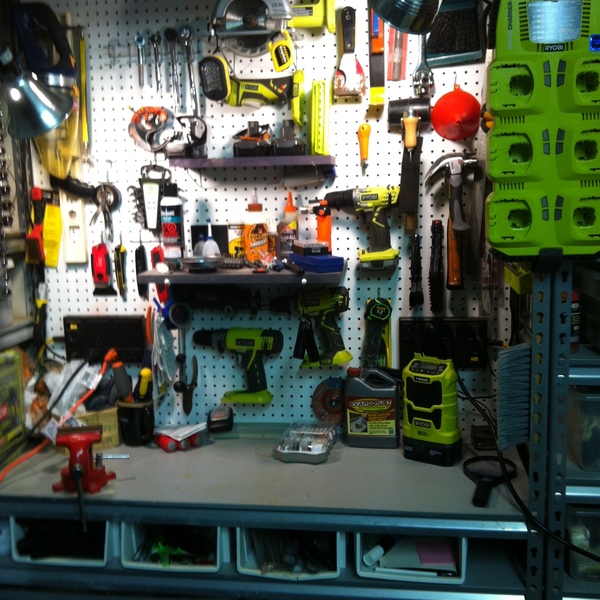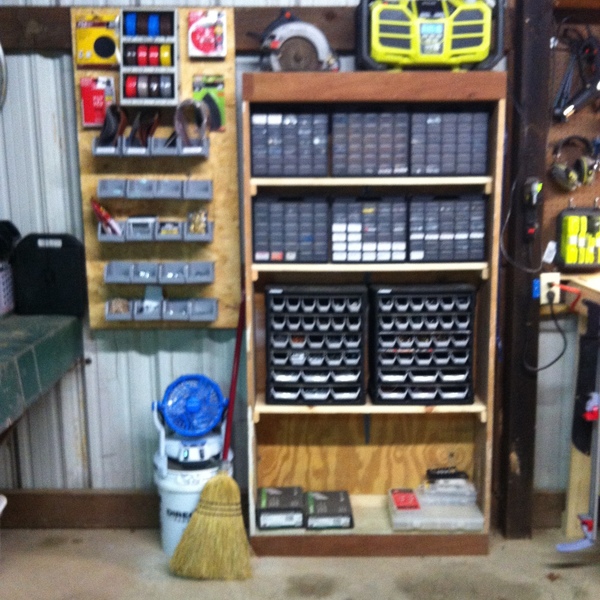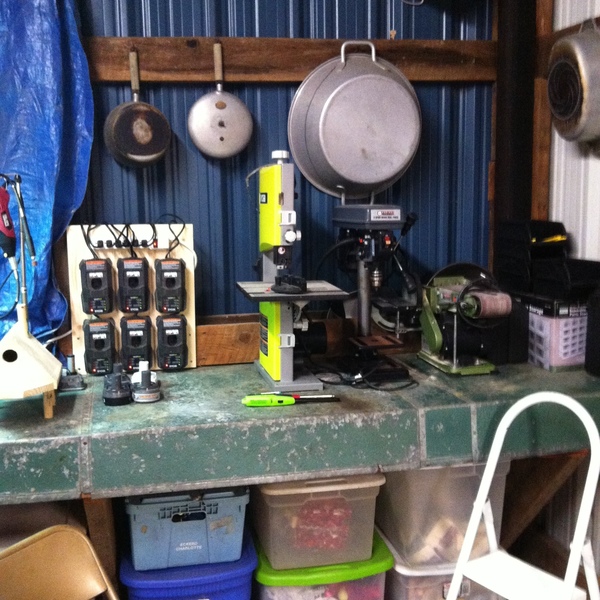 The project started while my wife was shopping in Tanger Outlet in Myrtle Beach, SC and I was killing time and wandered into the Direct Tools store. The manager, Jessie waited on me and introduced "reconditioned" tools to me. I bought my first 4 tool combo and was immediately hooked on tool collecting. I have since added the list of tools below and built shop area and storage for my 2 houses. The attached pictures show the different areas of the two shops including pneumatic tools with compressor; hand tool and miscellaneous materials area; nuts and bolts storage; additional equipment storage; rotary work area with magnifying glass and rotary tool attachments; mobile work bench; clothes storage rack; center work table with built-in table saw and 12" miter saw with stand. The last two pictures are of the shop work area in my primary residence.
Here are the tools I have purchased:
1 Ryobi P234G Impact Drill 18V
2 Ryobi P208B Compact Drill 18V
1 Ryobi P205G Starter Drill 18V
1 Ryobi HP53L Screw Driver 4V
2 Ryobi P703 Flash Light 18V
1 Ryobi P430G Buffer 18V
1 Ryobi P716 High Beam Spot Light 18V
2 Ryobi P501G 5 1/2" Circular Saw 18V
1 Ryobi P300 Stapler 18V
1 Ryobi S652DG 1/4 Sheet Sander Electric
1 Ryobi P745 Radio Hybrid
2 Ryobi P742 Radio 18V
2 Ryobi P713 Hand Vac 18V
1 Ryobi RP4530 Head Phones 4V
2 Ryobi P3320 Hybrid Fan Hybrid
1 Ryobi P3310 Fan 18V
1 Ryobi TS1142L 7 1/4" Miter Saw Electric
1 Ryobi P410 Orbital Sander 18V
1 Ryobi P411 Orbital Sander 18V
2 Ryobi P400 Detail Sander 18V
1 Ryobi DP103L Drill Press Electric
1 Ryobi BS904G 9" Band Saw Electric
1 Ryobi YG250FS Finish Nailer Pneumatic
1 Ryobi YG125CS Crown Stapler Pneumatic
1 Ryobi YG200BN Brad Nailer Pneumatic
1 Ryobi 6 Gal Compressor Electric
1 Ryobi JS481LG Jig Saw Electric
2 Ryobi P523 Jig Saw 18V
1 Ryobi BE319 3 X 18 Belt Sander Electric
2 Ryobi HJP003 12V Drill 12V
1 Ryobi P213 Hammer Drill 18V
2 Ryobi P422 Angle Grinder 18V
1 Ryobi TSS120L 12" Sliding Miter Saw Electric
1 Ryobi A25RT02G Router Table Electric
1 Ryobi R163GK Fixed Base Router Electric
1 Ryobi RE180PL1 Plunge Router Electric
1 Ryobi BG828G 8" Bench Grinder Electric
1 Ryobi BG612G 6" Bench Grinder Electric
1 Ryobi P271 Starter Drill 18V
1 Ryobi P530 Rotary Cutter 18V
1 Ryobi P340 Job Plus w/muli-tool/P570 18V
1 Ryobi P125 6 Port Charger Electric
1 Ryobi P320 Electro-Pneumatic Brad Nailer 18V
1 Ryobi RTS10G Table Saw Electric
1 Ryobi P731 Dual Function Inflator 18V
1 Ryobi TS1345L 10" Miter Saw Electric
2 Ryobi P514 Reciprocating Saw 18V
1 Ridgid R8223412 Job Plus Saw-Saw
1 Ridgid R8223402 Job Plus Side Drill
1 Ridgid R8223407 Job Plus Jig
1 Ridgid R8223405 Job Plus Auto Hammer
1 Ridgid R8223401 Job Plus Hammer Drill
1 Ridgid R8223403 Job Plus Socket
1 Ridgid P340 Job Plus Sander
2 Ridgid R213BNE Pneumatic Brad Nailer
1 Ridgid R250SFE Pneumatic Stright Finish Nailer
1 Ridgid R150FSE Pneumatic Narrow Crown Stapler
1 Ridgid R350RHE Pneumatic RH Framing Nailer
1 Ridgid R9020PN P570 Electric
1 Ridgid R2850 Pneumatic Muli-Tool Pneumatic
1 Ridgid OF50150TS 5 Gal Tri-Stack Compressor Electric
1 Ryobi E49ST01 Distance Measure w/Laser AA Battery
Show More
---
---
Members Also Viewed
back to top?
Please confirm your email address.
Select some categories to pick the kinds of projects that show up on your home page:
Welcome to your RYOBI Nation quick start guide, a fast and easy way to see everything that's waiting for you!
Your feed shows the latest projects from the categories you've selected, right on your homepage!
Are you working on something awesome? Upload your DIY projects today, and share with other members.
We award monthly and annual prizes for the best projects, worth up to $2500 in RYOBI tools! That's a lot of hardware, and it could all be yours.
RYOBI Nation is a positive connection between people who are creating great things.
You can follow fellow members, like their projects, and comment to let them know they're doing a great job.
Come back to RYOBI Nation often to see what is new and to stay in touch.
If you're on a mobile device, don't forget you can add RYOBI Nation to your home screen for quick access to your project feed.
---
Garage Upfit
by my0655
Jan 20, 2016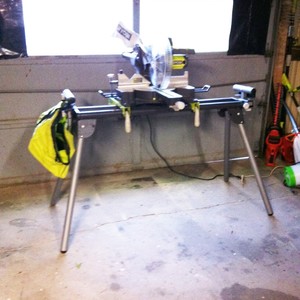 The project started while my wife was shopping in Tanger Outlet in Myrtle Beach, SC and I was killing time and wandered into the Direct Tools store. The manager, Jessie waited on me and introduced "reconditioned" tools to me. I bought my first 4 tool combo and was immediately hooked on tool collecting. I have since added the list of tools below and built shop area and storage for my 2 houses. The attached pictures show the different areas of the two shops including pneumatic tools with compressor; hand tool and miscellaneous materials area; nuts and bolts storage; additional equipment storage; rotary work area with magnifying glass and rotary tool attachments; mobile work bench; clothes storage rack; center work table with built-in table saw and 12" miter saw with stand. The last two pictures are of the shop work area in my primary residence. Here are the tools I have purchased: 1 Ryobi P234G Impact Drill 18V 2 Ryobi P208B Compact Drill 18V 1 Ryobi P205G Starter Drill 18V 1 Ryobi HP53L Screw Driver 4V 2 Ryobi P703 Flash Light 18V 1 Ryobi P430G Buffer 18V 1 Ryobi P716 High Beam Spot Light 18V 2 Ryobi P501G 5 1/2" Circular Saw 18V 1 Ryobi P300 Stapler 18V 1 Ryobi S652DG 1/4 Sheet Sander Electric 1 Ryobi P745 Radio Hybrid 2 Ryobi P742 Radio 18V 2 Ryobi P713 Hand Vac 18V 1 Ryobi RP4530 Head Phones 4V 2 Ryobi P3320 Hybrid Fan Hybrid 1 Ryobi P3310 Fan 18V 1 Ryobi TS1142L 7 1/4" Miter Saw Electric 1 Ryobi P410 Orbital Sander 18V 1 Ryobi P411 Orbital Sander 18V 2 Ryobi P400 Detail Sander 18V 1 Ryobi DP103L Drill Press Electric 1 Ryobi BS904G 9" Band Saw Electric 1 Ryobi YG250FS Finish Nailer Pneumatic 1 Ryobi YG125CS Crown Stapler Pneumatic 1 Ryobi YG200BN Brad Nailer Pneumatic 1 Ryobi 6 Gal Compressor Electric 1 Ryobi JS481LG Jig Saw Electric 2 Ryobi P523 Jig Saw 18V 1 Ryobi BE319 3 X 18 Belt Sander Electric 2 Ryobi HJP003 12V Drill 12V 1 Ryobi P213 Hammer Drill 18V 2 Ryobi P422 Angle Grinder 18V 1 Ryobi TSS120L 12" Sliding Miter Saw Electric 1 Ryobi A25RT02G Router Table Electric 1 Ryobi R163GK Fixed Base Router Electric 1 Ryobi RE180PL1 Plunge Router Electric 1 Ryobi BG828G 8" Bench Grinder Electric 1 Ryobi BG612G 6" Bench Grinder Electric 1 Ryobi P271 Starter Drill 18V 1 Ryobi P530 Rotary Cutter 18V 1 Ryobi P340 Job Plus w/muli-tool/P570 18V 1 Ryobi P125 6 Port Charger Electric 1 Ryobi P320 Electro-Pneumatic Brad Nailer 18V 1 Ryobi RTS10G Table Saw Electric 1 Ryobi P731 Dual Function Inflator 18V 1 Ryobi TS1345L 10" Miter Saw Electric 2 Ryobi P514 Reciprocating Saw 18V 1 Ridgid R8223412 Job Plus Saw-Saw 1 Ridgid R8223402 Job Plus Side Drill 1 Ridgid R8223407 Job Plus Jig 1 Ridgid R8223405 Job Plus Auto Hammer 1 Ridgid R8223401 Job Plus Hammer Drill 1 Ridgid R8223403 Job Plus Socket 1 Ridgid P340 Job Plus Sander 2 Ridgid R213BNE Pneumatic Brad Nailer 1 Ridgid R250SFE Pneumatic Stright Finish Nailer 1 Ridgid R150FSE Pneumatic Narrow Crown Stapler 1 Ridgid R350RHE Pneumatic RH Framing Nailer 1 Ridgid R9020PN P570 Electric 1 Ridgid R2850 Pneumatic Muli-Tool Pneumatic 1 Ridgid OF50150TS 5 Gal Tri-Stack Compressor Electric 1 Ryobi E49ST01 Distance Measure w/Laser AA Battery
Project Information

| | |
| --- | --- |
| Difficulty: | Easy |
| Categories: | Garage |

Tools Used

18V ONE+™ DUAL CHEMISTRY CHARGER
68 PC. SPEED LOAD+ DRIVING KIT
18V ONE+™ JOBPLUS™ WITH MULTI-TOOL ATTACHMENT
18V ONE+™ COMPACT LITHIUM+™ BATTERY
18V ONE+™ 4 PC. LITHIUM-ION SUPER COMBO KIT
18V ONE+™ AIRSTRIKE™ 18GA BRAD NAILER
18V ONE+™ HYBRID FAN
8 IN. BENCH GRINDER
10 IN. TABLE SAW WITH STEEL STAND
2 PEAK HP PLUNGE ROUTER
18V ONE+™ HAND VACUUM
18V ONE+™ CORNER CAT™ FINISH SANDER
INTERMEDIATE ROUTER TABLE