Return to Projects Listing
Fidget Spinner
If you are a parent and haven't been hiding under a rock somewhere, you've probably heard about the latest craze, fidget spinners. A great way to keep a kid occupied for hours AND it never runs out of batteries. Sure you can buy one for $5-10 and up, but I wanted to make one with a little more meaning. So I decided to make one by hand, out of oak. As a disclaimer, this fidget spinner is probably not nearly as durable as the plastic ones, and if it gets dropped on the thin part I'm sure there is a chance it could break along the grain. Nevertheless, it's still a cool and easy project to make.
View Project PDF
Videos
---
Steps
---
Download and print of the template provided above and adhere it to the 1/4" hardwood using spray adhesive.
---
---
Using a 7/8" forstner bit, drill about half way through the board at each hole location. Then flip the board over and complete the hole drilling.
---
Using the scroll saw cut out the profile of the spinner. Get as close to the line as you can without going inside.
---
Sand the profile of the spinner smooth and round over any harsh edges. The bearings should be a snug fit in the holes. If they have too tight of a fit then use some sandpaper to open them up ever so slightly so.
---
---
---
spacer
---
---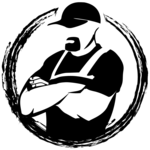 Project Information
Difficulty: Easy
Tools Used:
Materials Used:
spray adhesive

fast curing adhesive

sandpaper

4x skateboard bearings

1/4" x 3-1/2" Hardwood
also by Rogue Engineer
---
Related Projects