On March 24, 2018, between 6 p.m. – 12 a.m. (EST), this site will be under maintenance.
Please be aware that some of the site functionality will be unavailable during this time.
---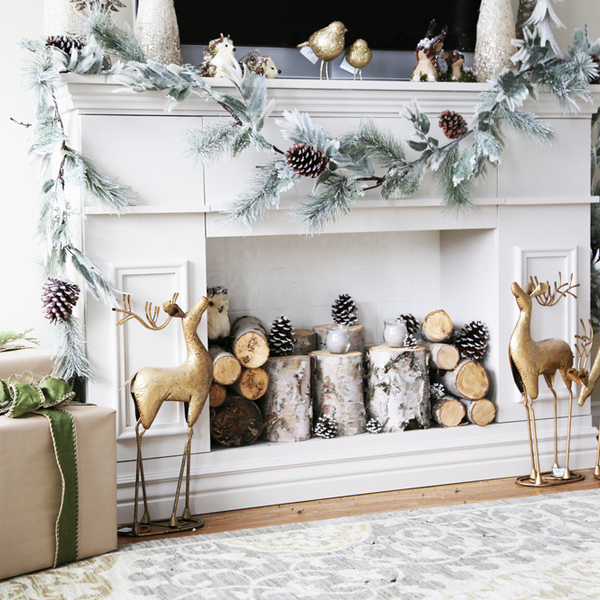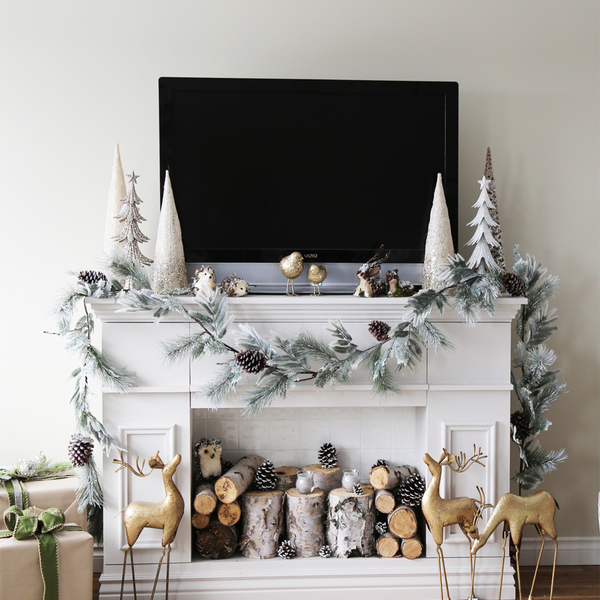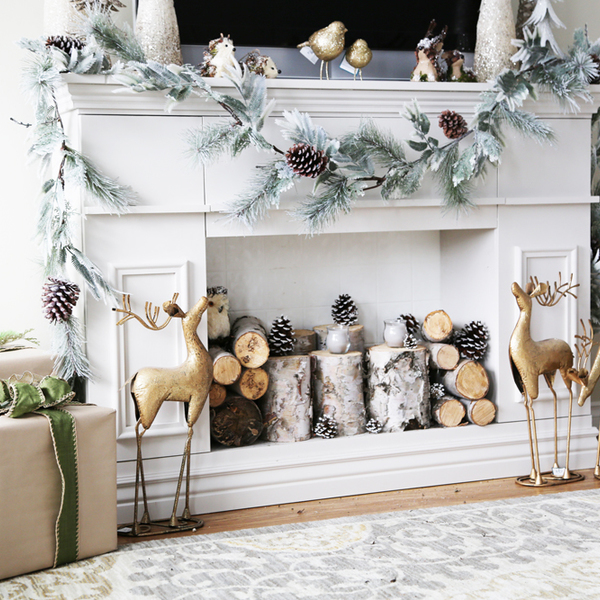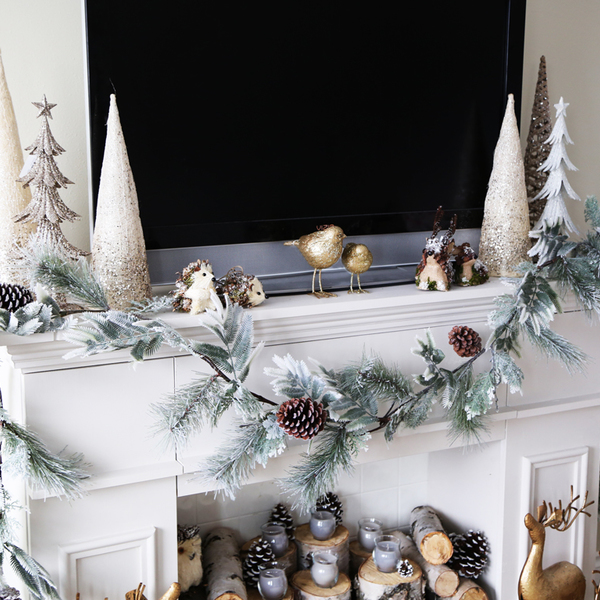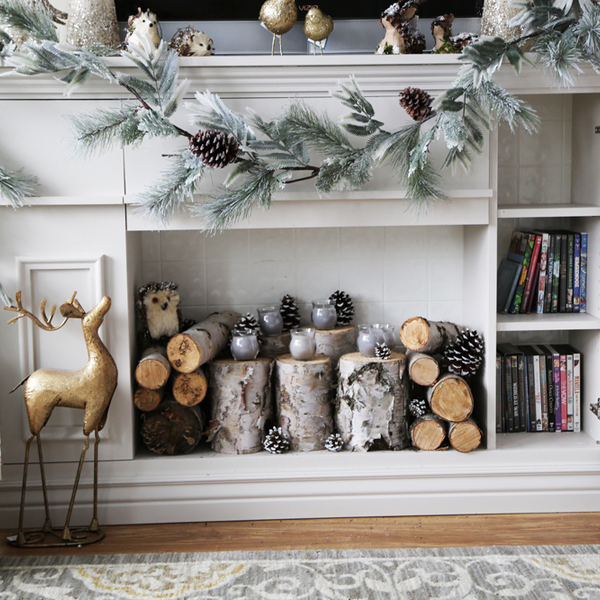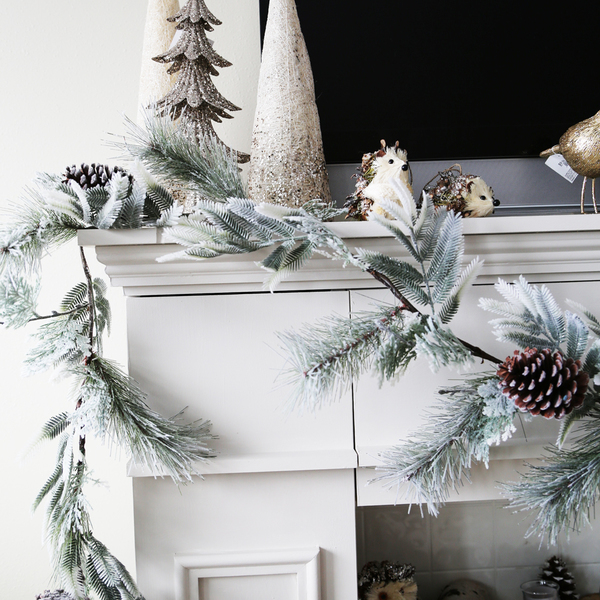 Where to hang stockings without a mantel? This freestanding faux fireplace with mantel is the perfect solution! Not only is it stylish and substantial, the front panels hinge open to hide everything from DVD players to TV controller boxes to hundreds of DVDs! Although it's freestanding and easy to remove and store when the Holidays are over, you may wish to use it as an entertainment console year round!
Show More
Project Steps

Step: 1

Cut Boards Cut boards according to the cut list using your compound miter saw. Do not cut crown moulding or base moulding yet – that should be cut to fit.

Step: 2

Drill Pocket Holes Drill ¾" pocket holes at all joints on 1x12 boards. TIP: Also drill ¾" pocket holes facing forward for attaching header board in Step 5 and 6.

Step: 3

Building the Carcass Assemble the carcass by attaching through predrilled pocket holes with 1-1/4" pocket hole screws and glue.

Step: 4

Adjust for square When your carcass is complete, take a second to measure diagonally from outside corner to opposite outside corner (at a diagonal). Do this on both sides and adjust carcass until diagonals match.

Step: 5

Header and Footer Boards Cut the header and trim boards according to cut list. Attach the two header boards together using ¾" pocket holes and 1-1/4" pocket hole screws on back side.

Step: 6

Attach Header and Footer Boards Use glue and 1-1/4" brad nails to attach header and footer boards to front of carcass. Also attach through predrilled pocket holes from Step 2 with 1-1/4" pocket hole screws and glue.

Step: 7

Base Moulding Measure and cut base moulding to fit the bottom of the cabinet. Miter corners at 45 degrees. Apply glue and attach with 1" finish nails.

Step: 8

Crown Moulding Measure and cut crown moulding to fit the top of the cabinet. Miter corners. Apply glue and attach with 1" finish nails.

Step: 9

Doors The doors are just 1x12 boards. You can add panel moulding (cut with the mitersaw and attached with the brad nailer), and also a 1x2 that serves as a handle. The 1x2 will also help prevent the door from cupping. Attach 1x2 from back side with 2" wood screws and glue.

Step: 10

Hinges Use hidden euro style hinges to attach doors to carcass.

Step: 11

Enjoy your new freestanding fireplace!
Comments (20)
---
---
---
---
---
---
---
---
---
---
---
---
---
---
---
---
---
---
---
Members Also Viewed
back to top?
Select some categories to pick the kinds of projects that show up on your home page:
Welcome to your RYOBI Nation quick start guide, a fast and easy way to see everything that's waiting for you!
Your feed shows the latest projects from the categories you've selected, right on your homepage!
Are you working on something awesome? Upload your DIY projects today, and share with other members.
We award monthly and annual prizes for the best projects, worth up to $2500 in RYOBI tools! That's a lot of hardware, and it could all be yours.
RYOBI Nation is a positive connection between people who are creating great things.
You can follow fellow members, like their projects, and comment to let them know they're doing a great job.
Come back to RYOBI Nation often to see what is new and to stay in touch.
If you're on a mobile device, don't forget you can add RYOBI Nation to your home screen for quick access to your project feed.
---