---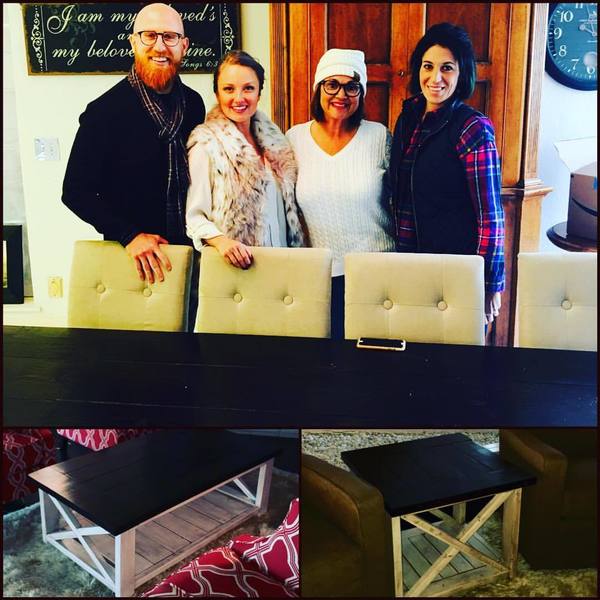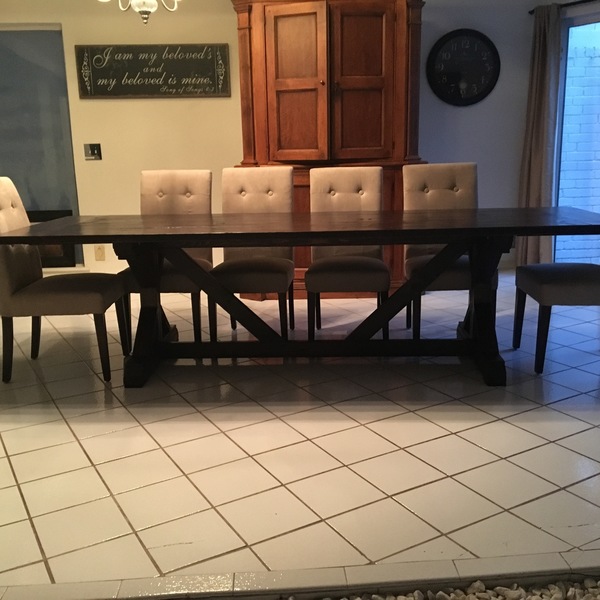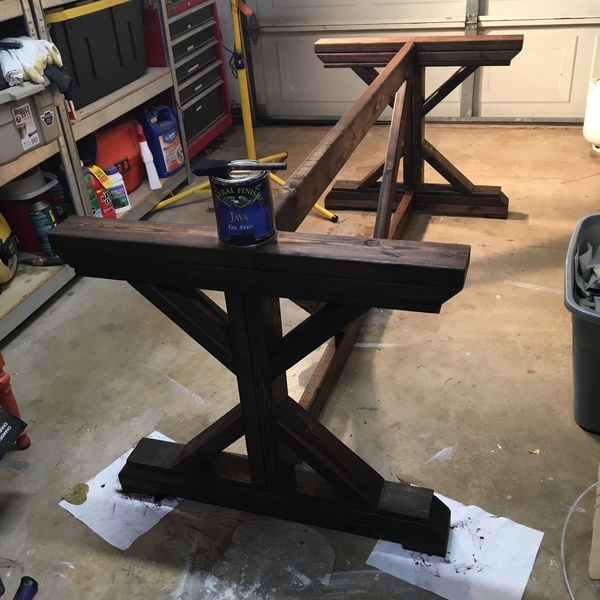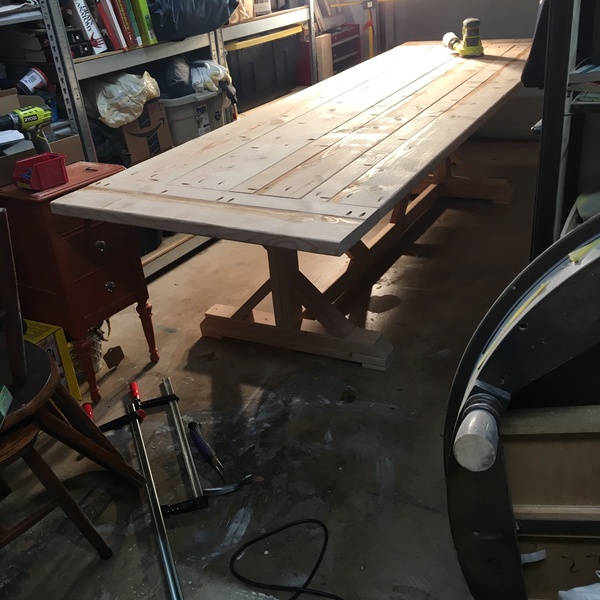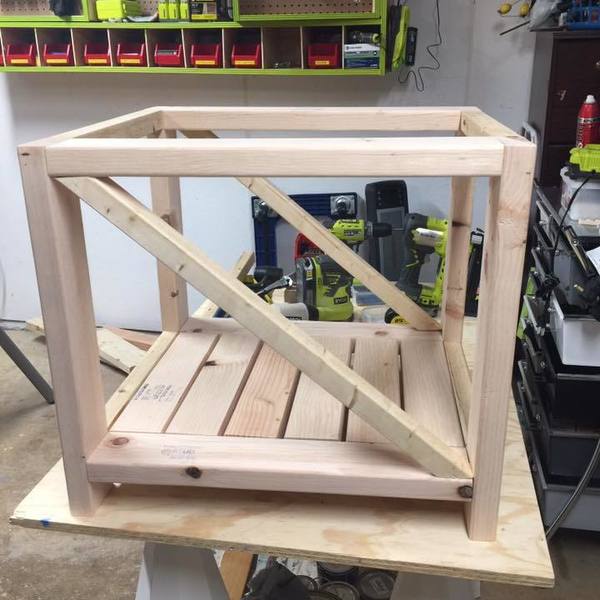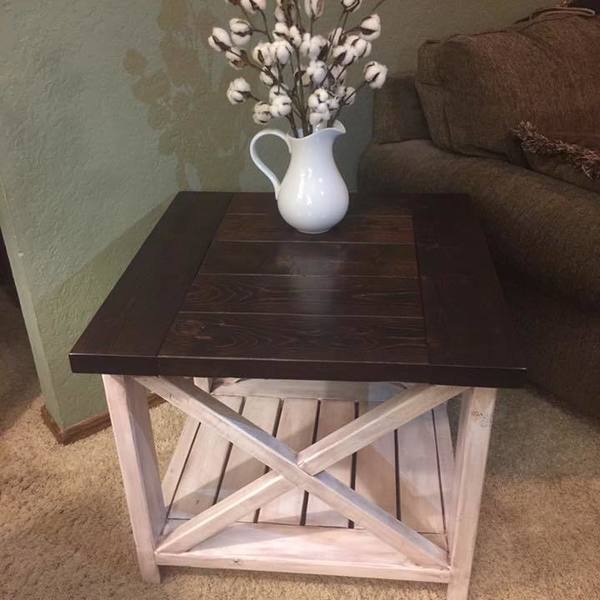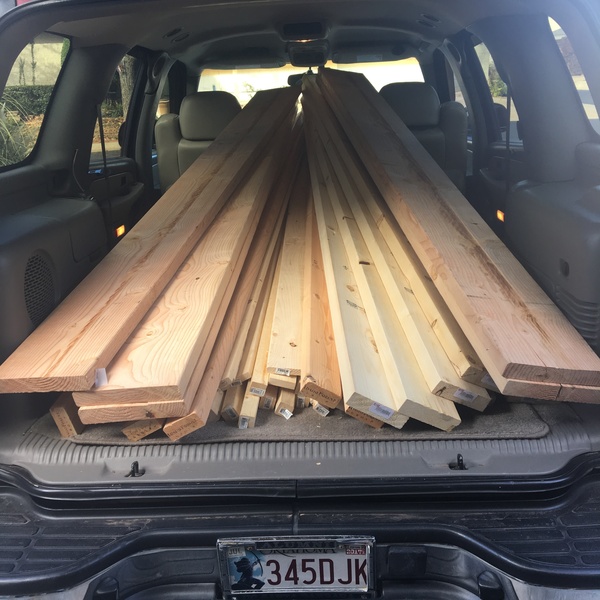 I have been blessed so much in my life by others and it was time to give back. I have raised 3 beautiful girls as a single mom most of their life. I have done Hair and Nails for 26 years, and then I went to college at the age of 40 after the girls were grown. Became an EMT, worked on an ambulance for two years, then went on to live my childhood dream as a flight attendant. In the last 6 months I have become a carpenter. I can't even believe I am doing this now and have never been happier in my life, except for being in the air. I was honored to be able to donate a 9 1/2 ft Farm Table and bench, 2 matching coffee tables and 2 end tables, to an all girls christian mentored home for them to help aid in their struggle with drugs and alcohol. This hits very close to home for me, my oldest daughter was saved by this wonderful Ministry. Her struggle almost killed her a year ago and I was so blessed by this ministry I took on this huge project without a second thought of all of the hard work that I was in for or the cost of all the wood this was going to take. I went to my local HOME DEPOT store that is always so helpful with all of my needs, and asked them to donate all the wood for this project. It was a God thing when Kyle the ASM said yes sure without a second thought himself. This whole project has touched so many, and will help so many girls for many years to come. Hoping they have a blessed new start to a new home and new year!
Big shout out to Ana White, Shanty-2-chic, Rouge Engineer! They have inspired every one of my builds thus far!
The Gratitude:
We are SUPER thankful for our friend Missy! She just spent days building a 9' kitchen table, 2 end tables & 2 coffee tables for our new Women's Home! She is incredible!! Also, a big S/O to @homedepot for donating all the wood for these projects! Thanks for making our new home so beautiful!! #HIA
Show More
---
---
Members Also Viewed
back to top?
Please confirm your email address.
Select some categories to pick the kinds of projects that show up on your home page:
Welcome to your RYOBI Nation quick start guide, a fast and easy way to see everything that's waiting for you!
Your feed shows the latest projects from the categories you've selected, right on your homepage!
Are you working on something awesome? Upload your DIY projects today, and share with other members.
We award monthly and annual prizes for the best projects, worth up to $2500 in RYOBI tools! That's a lot of hardware, and it could all be yours.
RYOBI Nation is a positive connection between people who are creating great things.
You can follow fellow members, like their projects, and comment to let them know they're doing a great job.
Come back to RYOBI Nation often to see what is new and to stay in touch.
If you're on a mobile device, don't forget you can add RYOBI Nation to your home screen for quick access to your project feed.
---
Donation of a lifetime
by CRD
Jan 23, 2017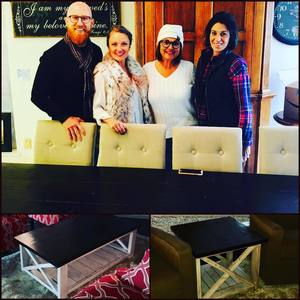 I have been blessed so much in my life by others and it was time to give back. I have raised 3 beautiful girls as a single mom most of their life. I have done Hair and Nails for 26 years, and then I went to college at the age of 40 after the girls were grown. Became an EMT, worked on an ambulance for two years, then went on to live my childhood dream as a flight attendant. In the last 6 months I have become a carpenter. I can't even believe I am doing this now and have never been happier in my life, except for being in the air. I was honored to be able to donate a 9 1/2 ft Farm Table and bench, 2 matching coffee tables and 2 end tables, to an all girls christian mentored home for them to help aid in their struggle with drugs and alcohol. This hits very close to home for me, my oldest daughter was saved by this wonderful Ministry. Her struggle almost killed her a year ago and I was so blessed by this ministry I took on this huge project without a second thought of all of the hard work that I was in for or the cost of all the wood this was going to take. I went to my local HOME DEPOT store that is always so helpful with all of my needs, and asked them to donate all the wood for this project. It was a God thing when Kyle the ASM said yes sure without a second thought himself. This whole project has touched so many, and will help so many girls for many years to come. Hoping they have a blessed new start to a new home and new year! Big shout out to Ana White, Shanty-2-chic, Rouge Engineer! They have inspired every one of my builds thus far! The Gratitude: We are SUPER thankful for our friend Missy! She just spent days building a 9' kitchen table, 2 end tables & 2 coffee tables for our new Women's Home! She is incredible!! Also, a big S/O to @homedepot for donating all the wood for these projects! Thanks for making our new home so beautiful!! #HIA
Project Information

| | |
| --- | --- |
| Difficulty: | Intermediate |
| Inspired By: | Ana White |
| Categories: | Furniture |

Tools Used

11 IN. FLEXIBLE SHAFT BIT EXTENSIONS
18V ONE+™ 6 PC. LITHIUM+™ ULTIMATE COMBO KIT
18V ONE+™ AIRSTRIKE™ 18GA BRAD NAILER
18V ONE+™ 2-PACK COMPACT LITHIUM-ION BATTERIES
18V ONE+™ CORNER CAT™ FINISH SANDER
18V ONE+™ MITER SAW