Return to Projects Listing
DIY Leather Day Bed
This leather daybed is made of plywood, leather, and hairpin legs. The design is simple and is do-able with only a circular saw and a drill.
Videos
---
Steps
---
I ripped two sheets of plywood at 16.5" using my circular saw. I then cut both sheets to 64" in length.
---
---
The foam I used for this project is called Kaizen Foam. I cut two sheets that totaled to 64"x18" for the base and two ¾" strips measuring at 64" in length. I used spray adhesive to glue all the pieces together. The ¾" strips are glued on top of the longer side of the cushion. No strips are needed for the shorter side.
---
I leaned the plywood vertically against the wall and then applied double stick tape. I then pushed the foam onto the plywood to adhere the two pieces together.
---
I cut a piece of leather that was roughly 5" larger on all sides of the cushion. This gave me enough space to fold on top of the plywood and staple in place. A little tape was helpful in holding the first side evenly onto the plywood before stapling it on.
---
---
spacer
---
---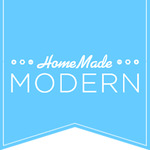 Project Information
Difficulty: Intermediate
Tools Used:
Materials Used:
hairpin legs

leather

double stick tape

spray adhesive

kaizen foam

Plywood
also by Homemade Modern
---
Related Projects