Steps
STEP 1
Cut the Base Panel. Measure the base panel and then cut it using your RYOBI Circular Saw. Base Panel Cut: 13-3/8" x 17"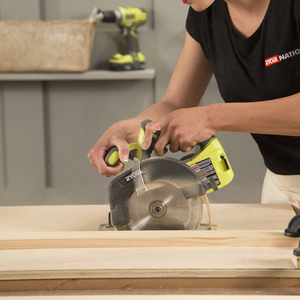 STEP 2
Cut Sides & End Panels. Cut 2 Sides & End Panels from the 1x3 using your Circular Saw. Side Board Cut: 18-1/2" x 21/2" (2) End Board w/ Handle Cut: 13-3/8" x 2-1/2" (2)
Materials
1" x 3" x 6' Pine Board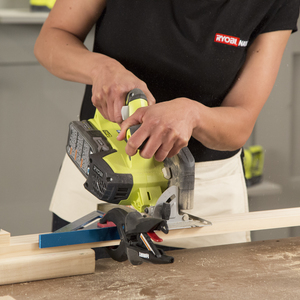 STEP 3
Mark the Handles. To center the handles and the end panels, mark 6 5/8. The handles need to be 4 inches wide. Mark 4 5/8 and 8 5/8. From the top edge, mark 1/2 inch and 1 1/4 inch. To round out the ends of the handles, use a penny as a template.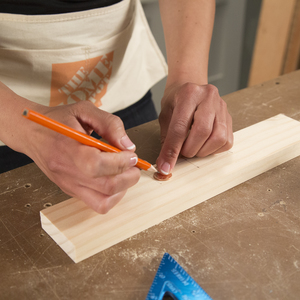 STEP 4
Cut out the Handles. Drill a small pilot hole in order to start cutting with your jig saw. Even up the cut from the back, if needed. Use fine sandpaper to smooth out sharp edges.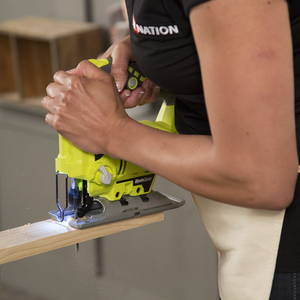 STEP 5
Assemble the Tray. Apply a small bead of wood glue along the edge of the base panel. Join one end board. Using your Brad Nailer, place 3-5 nails along the edge. Repeat. Glue the left and right side of the hostess tray, and nail. Wipe off excess glue.
Materials
1-1/2" 18-Gauge Collated Brad Nails
STEP 6
Fill Holes & Sand Tray Use wood filler to fill the nail holes, and use your sandpaper to lightly smooth out sharp edges. You're ready for decoration!
Materials
Sandpaper, Wood Filler