Steps
STEP 1
Cut the plywood to size. Cut the 1/2 thick plywood to 4 feet by 30 inches. Cut two pieces of 1/4 inch thick plywood to 4 feet by 30 inches.
Materials
4x8 Sheet of 1/4" Plywood. 4x8 Sheet of 1/2" Plywood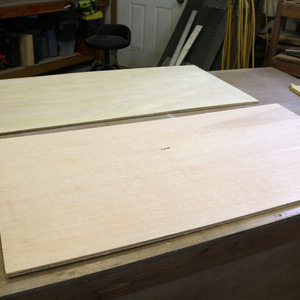 STEP 2
Clamp the two 1/4 inch thick pieces of plywood together. Measure for hole locations in the 1/4 inch plywood according to the plans.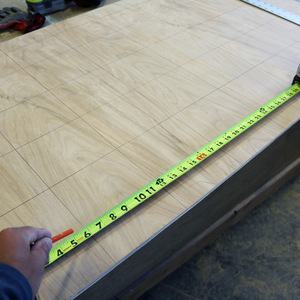 STEP 3
Use a small drill bit to drill a pilot hole at each hole location. This game is 7 holes left to right and 6 holes top to bottom.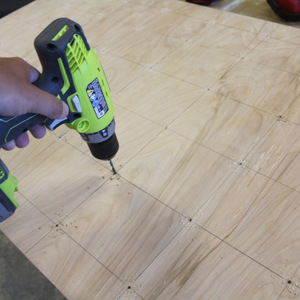 STEP 4
Cut the circles for the two 1/4 inch sheets that are clamped to each other. Use a 4 inch circular saw. Secure the boards and take your time to safely cut each hole. Hole saws are dangerous so please read the directions on how to safely use the hole saws.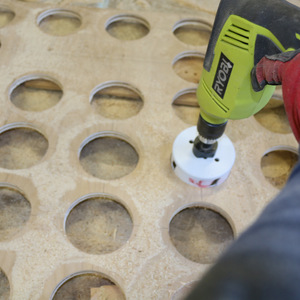 STEP 5
Cut the 1/2 inch thick 5 inch diameter discs with the 5 inch hole saw.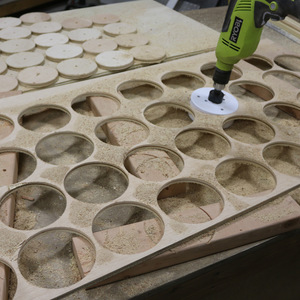 STEP 6
Sand the disks and the plywood game board. Use an orbital sander. Use a belt sander for the disks if you have one.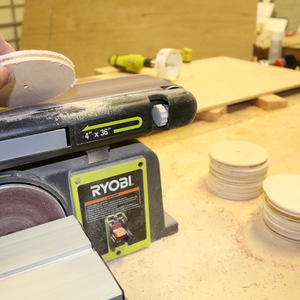 STEP 7
Cut the spacers that will go between the boards. Make six 1 inch wide by 30 inch long strips. Glue and attach them with 5/8" nails. Cut the two end boards to 3 1/2 inches in width by 30 inches.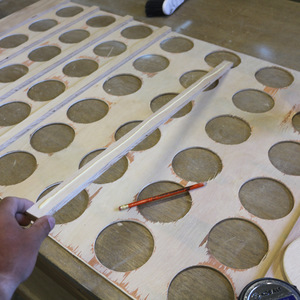 STEP 8
Paint or stain the the game pieces prior to adding the other side. This will ensure you are able to get all the areas covered.
STEP 9
Attach the other side of the game board using glue and 5/8 inch long 18 gauge nails.
STEP 10
Cut a 1x2 board down to 48 inches in width. Next, use 2 1/2 inch hinges on each end to allow the board to flip down. This is how you will empty the discs. Add 1 or 2 smaller 1 inch hinges toward the center that are between the discs.
Tools
Circular Saw, Drill
STEP 11
Build the stand for the game. This involves cutting 2x4 boards to length. All of the angles used are 45 degrees.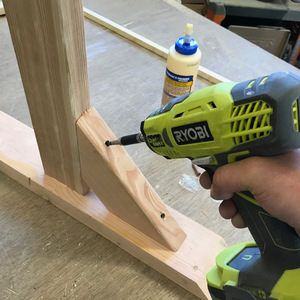 STEP 12
Here is what the side stands will look like. Paint or stain the stand.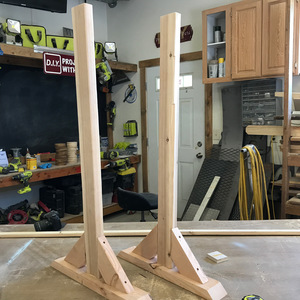 STEP 13
Attach the stand to the game board sides using 3 inch long screws and wood glue.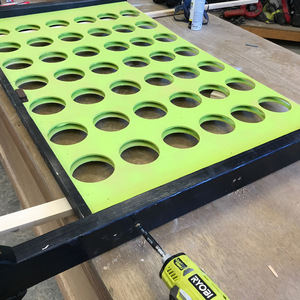 STEP 14
Add a latch. I don't have it pictured, but a bolt latch will work well.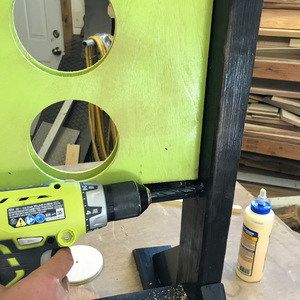 STEP 15
Add a 48 inch wide lower support to help give the stand additional strength. Paint or stain half of the disks so 21 are a different color then the other 21. Enjoy your Four in a Row game!
Materials
3" Wood Screws, Wood Stain