Return to Projects Listing
CRATE WALL
How much storage space is too much storage space? Is an entire wall of storage too much? We don't think so. We've created a modular storage wall system out of crates of all sizes and a few French cleats. Once the cleats are mounted on the wall and the crates you can arrange and re-arrange as often as you like and with ease.
For the crates we use four sizes. Each size listed below is available for purchase on our site.
● 9 5/8 in. x 11 3/4 in. x 4 13/16 in
● 9 5/8 in. x 9 5/8 in. x 9 5/8 in
● 9 5/8 in. x 18 in. x 12 1/2 in
● 9 5/8 in. x 27 in. x 12 1/2 in
Our French cleats (found here) are pairs of 18" long unfinished white pine.
All of the crates we used are unfinished white pine and will look fantastic against any wall color.
Once you tire of any particular arrangement you can again re-arrange the crates into a new and exciting format.
Steps
---
---
---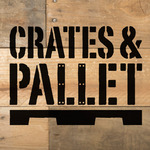 Project Information
Difficulty: Easy
Tools Used:
Materials Used:
(24) French Cleat kits from cratesandpallet.com

(4) 9 5/8 in. x 9 5/8 in x 9 5/8 in. crates

(6) 9 5/8 in. x 11 ¾ in x 4 13/16 in. crates

(7) 9 5/8 in. x 18 in. x 12 ½ in. crates

(3) 9 5/8 in. x 27 in. x 12 ½ in. crates
also by Crates & Pallet
---
Related Projects