Return to Projects Listing
CORNHOLE BOARDS
Gearing up for the fall season of tailgating, we created a quick instruction set for the perfect cornhole boards. Based on the official cornhole board dimensions, these boards feature legs that can rotate back for easy storage or transportation. This easy construction will take your tailgating to the next level. Quick construction and easy instructions will get you playing today.
Steps
---
Important Step for Getting Started:
Begin by cutting all pieces on the cut list. This will help you construct the cornhole boards with ease later.
---
---
Attach the plywood to the frame. We recommend countersinking the screws or using self countersinking screws so they remain flush to the plywood surface.
---
Cut the hole. It might be easiest to nail in a nail at the center of the circle and use a piece of string or a tape measure to construct the circle. Once you have drawn the circle use a drill bit and drill within the circle. Then use the jig saw to cut the circle.
---
Attach the legs. Drill a hole slightly bigger than the bolt you will be using in both the frame and the leg. Place the bolt through and attach, in order a washer, nut, lock washer, nut.
---
Attach the cross support. Screw a cross brace from one leg to the next to ensure a stable cornhole table.
---
Paint or customize your boards...and play the game!
For more DIY project ideas from Crates & Pallet, visit www.cratesandpallet.com.
---
spacer
---
---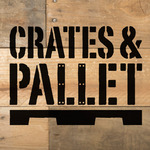 Project Information
Difficulty: Easy
Tools Used:
Materials Used:
6 2x4s

1 Sheet Plywood [4'x4']

4 bolts

4 washers

4 lock washers

8 nuts

Screws
also by Crates & Pallet
---
Related Projects