We are upgrading our messaging system to better assist you by email. The current ticketing process will be discontinued on Jan 31st and a new experience will be available starting February 4th. If you need assistance Jan 31st-Feb 3rd, contact us at 1-800-525-2579 9am-6pm EST. Stay tuned for Feb 4th and the release of our new email process! Thank you for your patience.
---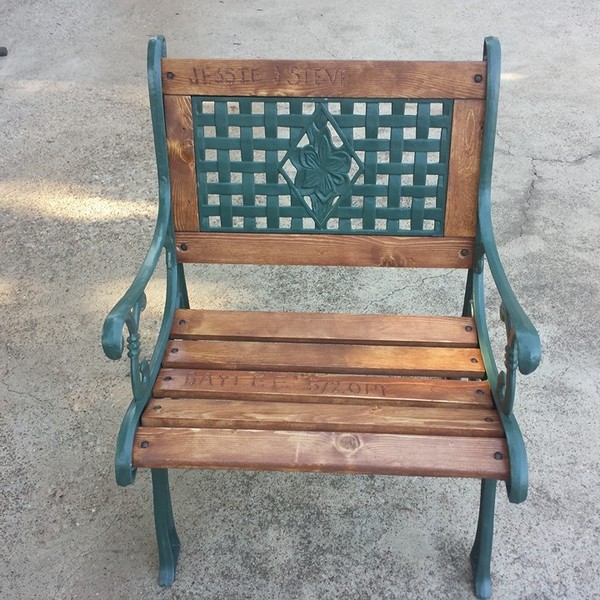 it is so true what they say another mans trash is another mans treasure. about a month ago my neighbor had this little chair sitting outisde by the corner waiting for the trash man to pick it up. I being curious asked if I could have it not wanting to steal if it is was sitting there for another reason. I took it home and removed all the old rotting wood from it. Went to the hardware store bought all new wood planks stain and spray paint. over the weekend my 8yo step daughter and I turned this trash into a new cahir that iwll last use for many years
Show More
---
---
Members Also Viewed
back to top?
Please confirm your email address.
Select some categories to pick the kinds of projects that show up on your home page:
Welcome to your RYOBI Nation quick start guide, a fast and easy way to see everything that's waiting for you!
Your feed shows the latest projects from the categories you've selected, right on your homepage!
Are you working on something awesome? Upload your DIY projects today, and share with other members.
We award monthly and annual prizes for the best projects, worth up to $2500 in RYOBI tools! That's a lot of hardware, and it could all be yours.
RYOBI Nation is a positive connection between people who are creating great things.
You can follow fellow members, like their projects, and comment to let them know they're doing a great job.
Come back to RYOBI Nation often to see what is new and to stay in touch.
If you're on a mobile device, don't forget you can add RYOBI Nation to your home screen for quick access to your project feed.
---
Chair
by stephenradford
May 21, 2014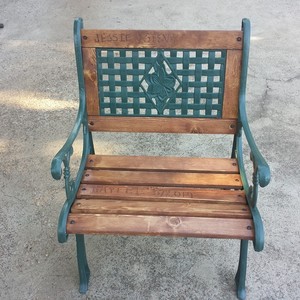 it is so true what they say another mans trash is another mans treasure. about a month ago my neighbor had this little chair sitting outisde by the corner waiting for the trash man to pick it up. I being curious asked if I could have it not wanting to steal if it is was sitting there for another reason. I took it home and removed all the old rotting wood from it. Went to the hardware store bought all new wood planks stain and spray paint. over the weekend my 8yo step daughter and I turned this trash into a new cahir that iwll last use for many years
Project Information

| | |
| --- | --- |
| Difficulty: | Intermediate |
| Categories: | Furniture |

Materials Used

4 8" 3X1 BOARDS
CHERRY WOOD STAIN
SPRAY PAINT
MY RYOBI DRILL
MITER SAW
DRIMMEL TOOM