---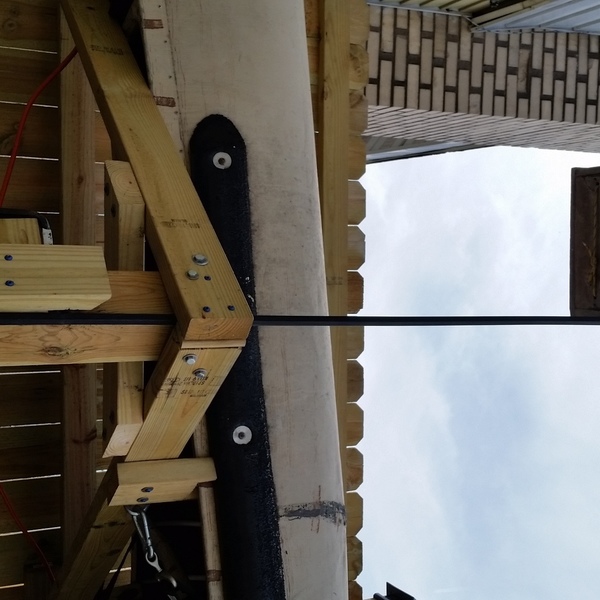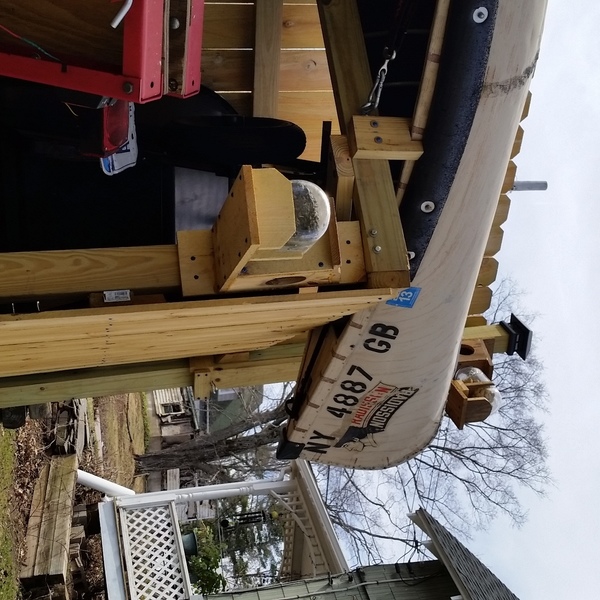 I needed to store my canoe and trailer outside of my garage. The trailer was a fold up, that was tough to fold up on the concrete garage floor. So anywhere else it would be close to impossible. I had an area near my garage next to a retaining wall but I had to fit both the boat and trailer.
I started by tearing out the picket fence on top of the wall. I put in a fence using individual pickets secured with my ryobi impact driver (actually the entire project was built basically using my driver, tek4 laser level, ryobi recip saw). The storage area can't be seen from the road to give it a neat appearance. I installed a remote battery powered winch to raise the trailer up to the wall. I also use the same winch with straps and a block on the upper ring to lift my canoe in place.
As a finishing touch I installed a bird feeder and two mason jar squirrel feeders! One of the squirrel feeders and the bird feeder lower to access filling them.
One thing that this project really impressed me was the Ryobi impact driver. It is going to be my go to tool for future projects
Show More
---
---
Members Also Viewed
back to top?
Please confirm your email address.
Select some categories to pick the kinds of projects that show up on your home page:
Welcome to your RYOBI Nation quick start guide, a fast and easy way to see everything that's waiting for you!
Your feed shows the latest projects from the categories you've selected, right on your homepage!
Are you working on something awesome? Upload your DIY projects today, and share with other members.
We award monthly and annual prizes for the best projects, worth up to $2500 in RYOBI tools! That's a lot of hardware, and it could all be yours.
RYOBI Nation is a positive connection between people who are creating great things.
You can follow fellow members, like their projects, and comment to let them know they're doing a great job.
Come back to RYOBI Nation often to see what is new and to stay in touch.
If you're on a mobile device, don't forget you can add RYOBI Nation to your home screen for quick access to your project feed.
---
Canoe and trailer storage
by rpiatek_105297
Apr 17, 2015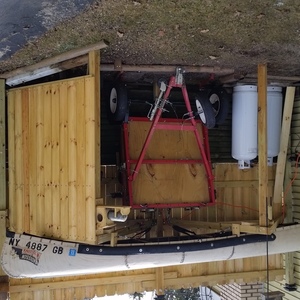 I needed to store my canoe and trailer outside of my garage. The trailer was a fold up, that was tough to fold up on the concrete garage floor. So anywhere else it would be close to impossible. I had an area near my garage next to a retaining wall but I had to fit both the boat and trailer. I started by tearing out the picket fence on top of the wall. I put in a fence using individual pickets secured with my ryobi impact driver (actually the entire project was built basically using my driver, tek4 laser level, ryobi recip saw). The storage area can't be seen from the road to give it a neat appearance. I installed a remote battery powered winch to raise the trailer up to the wall. I also use the same winch with straps and a block on the upper ring to lift my canoe in place. As a finishing touch I installed a bird feeder and two mason jar squirrel feeders! One of the squirrel feeders and the bird feeder lower to access filling them. One thing that this project really impressed me was the Ryobi impact driver. It is going to be my go to tool for future projects
Project Information

| | |
| --- | --- |
| Difficulty: | Intermediate |
| Categories: | Recreation, Construction, Other |

Tools Used

18V ONE+™ RADIO
18V ONE+™ POWER CAULK & ADHESIVE GUN
18V ONE+™ BATTERY 2-PACK
ONE+™ TOOL BAG
10 IN. COMPOUND MITER SAW WITH LASER

Materials Used

PT 4X4,2X4, FENCE PICKETS, WINCH AND BATTERY, HARDWARE AND TWO MASON JARS.