Return to Projects Listing
Built-in Entertainment Center
I've always been interested in carpentry, but never had the space or the tools. My wife and I moved from an apartment in NY to a house in TN and I finally have a garage where I could build a shop. Although a little ambitious, this entertainment center was my first true build-from-scratch carpentry project. I probably spent more on materials because it was my first time and I had some waste and some mistakes, but overall I'm really proud of it. I still need to make the cabinet doors for the bottom (glass-panel shaker for the center and solid panel shaker for the towers, but it's almost done and I thought I'd enter before the contest ends. Thanks to Ryobi for making great stuff...I'm a fan as you can see in the last shot (sitting on my bench that I also made).
---
---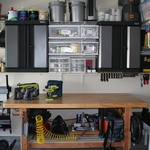 Project Information
Difficulty: Advanced
Tools Used:
Materials Used:
A mix of Poplar, A-grade Pine, and MDF.
---
Related Projects