Return to Projects Listing
Bathroom Makeover
My bathroom desperately needed a makeover to make it more modern looking. I was tired of staring at the same old look for the past 12 years. This project was done on a budget with new paint and new hardware.
The wall was painted a light grey color. All the old light fixtures, towel rack, and cabinet doors were removed using my Ryobi cordless drill. The cabinets and mirror frame were painted a semi gloss black. An updated light fixture was installed. New cabinet handles were added. The total time spent was about 5 days including time watching the paint dry.
I am happy with the result for a budget project.
---
---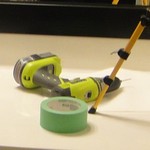 Project Information
Difficulty: Intermediate
---
Related Projects