Due to the holidays, our Customer Engagement Center is closed on Thursday and Friday, 11/26-27. Please note, any inquiry submissions during this extended weekend might result in a delayed response.
---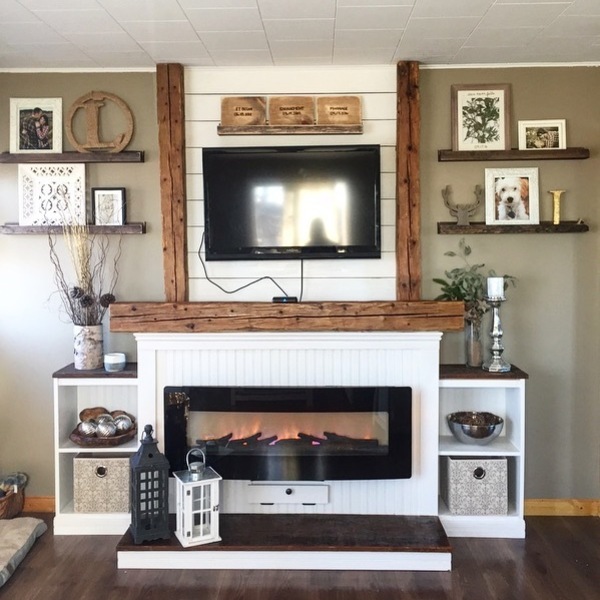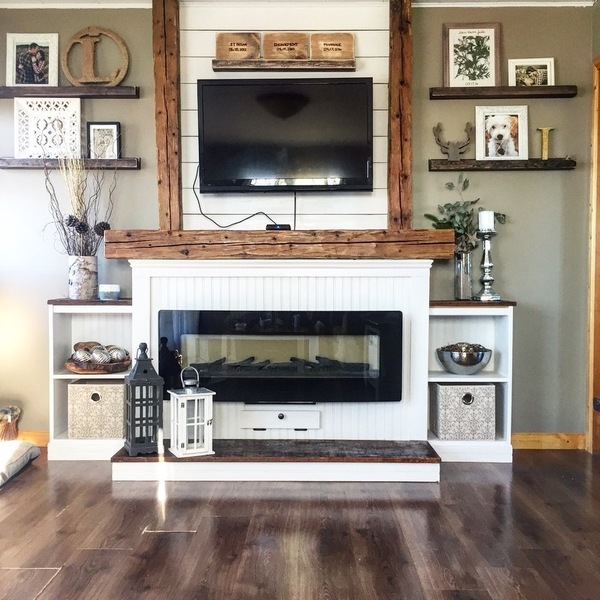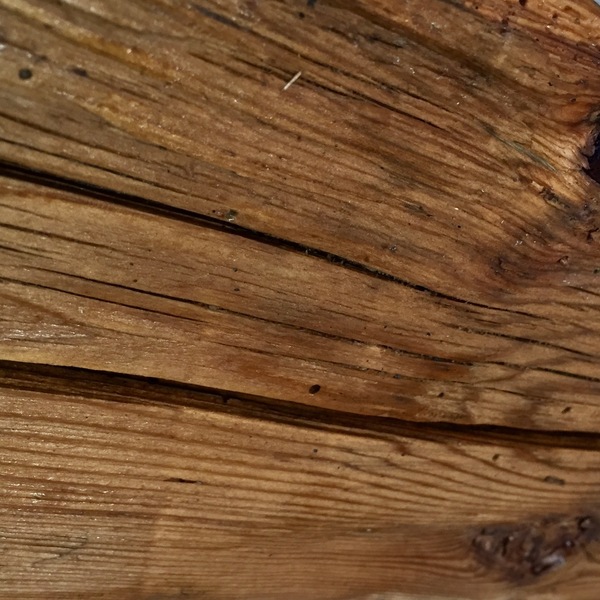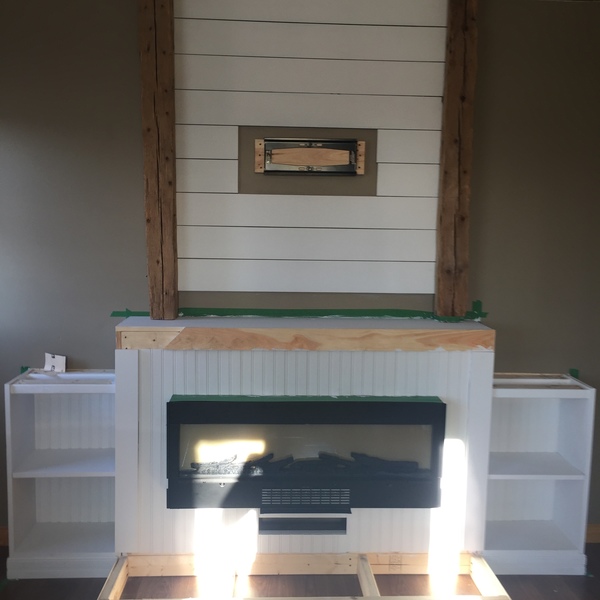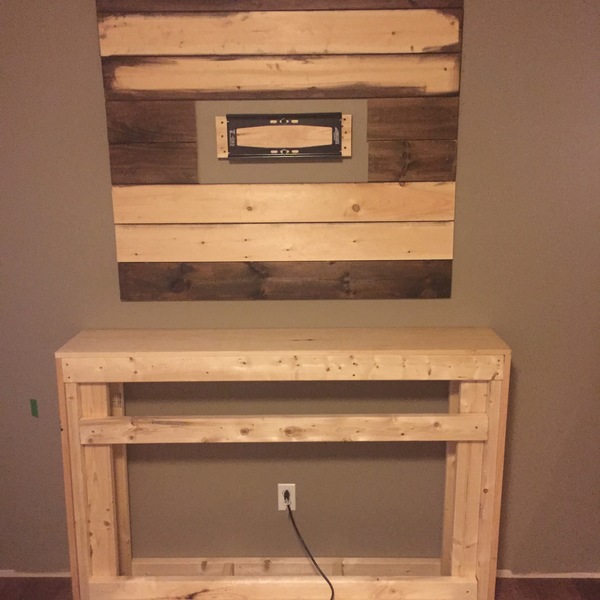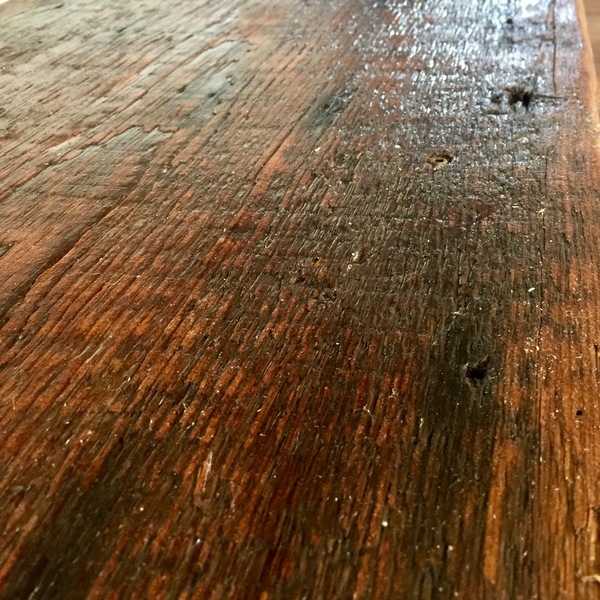 When our electric fireplace quit, I embraced the opportunity for a new/big project to add some character to our starter home. I really loved the idea of a built-in with shelves for storage. I had a collection of old barn beams that I traded for building some nightstands for my boss. I thought one of them (rough 6x6) would look great as a mantel and couldn't wait to use it. I also loved the idea of a plank wall - go big or go home, right? I had some smaller beams that would frame the plank wall perfectly and tie the piece together. When I was making the hearth I remembered I had a wide piece of wood that a coworker gave me off of his 100+ yr old home. It is beautiful and about 16" wide, and has so much character from the holes left behind by the square nails that were used to attach it to his home over a hundred years ago. With all of these unique pieces in mind, I drew up a picture of what I wanted and began to plan the project. It came together beautifully and I couldn't be happier. This was my first project like this - now I'm already looking for my next ! If interested in reading more, visit my blog post https://behindthebuilds.com/2017/01/05/barn-beam-inspired-fireplace/
Show More
---
---
Members Also Viewed
back to top?
Please confirm your email address.
Select some categories to pick the kinds of projects that show up on your home page:
Welcome to your RYOBI Nation quick start guide, a fast and easy way to see everything that's waiting for you!
Your feed shows the latest projects from the categories you've selected, right on your homepage!
Are you working on something awesome? Upload your DIY projects today, and share with other members.
We award monthly and annual prizes for the best projects, worth up to $2500 in RYOBI tools! That's a lot of hardware, and it could all be yours.
RYOBI Nation is a positive connection between people who are creating great things.
You can follow fellow members, like their projects, and comment to let them know they're doing a great job.
Come back to RYOBI Nation often to see what is new and to stay in touch.
If you're on a mobile device, don't forget you can add RYOBI Nation to your home screen for quick access to your project feed.
---
Barn Beam Inspired Fireplace
by Lady Lumber
Jan 17, 2017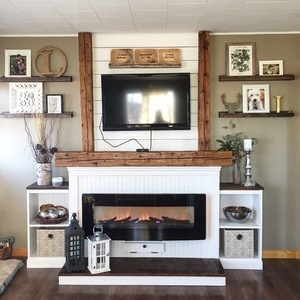 When our electric fireplace quit, I embraced the opportunity for a new/big project to add some character to our starter home. I really loved the idea of a built-in with shelves for storage. I had a collection of old barn beams that I traded for building some nightstands for my boss. I thought one of them (rough 6x6) would look great as a mantel and couldn't wait to use it. I also loved the idea of a plank wall - go big or go home, right? I had some smaller beams that would frame the plank wall perfectly and tie the piece together. When I was making the hearth I remembered I had a wide piece of wood that a coworker gave me off of his 100+ yr old home. It is beautiful and about 16" wide, and has so much character from the holes left behind by the square nails that were used to attach it to his home over a hundred years ago. With all of these unique pieces in mind, I drew up a picture of what I wanted and began to plan the project. It came together beautifully and I couldn't be happier. This was my first project like this - now I'm already looking for my next ! If interested in reading more, visit my blog post https://behindthebuilds.com/2017/01/05/barn-beam-inspired-fireplace/
Project Information

| | |
| --- | --- |
| Difficulty: | Intermediate |
| Categories: | Crafts & Decor, Furniture, Renovations |

Tools Used

18V ONE+™ COMPACT LITHIUM+™ BATTERY
12 IN. SLIDING COMPOUND MITER SAW WITH LASER