---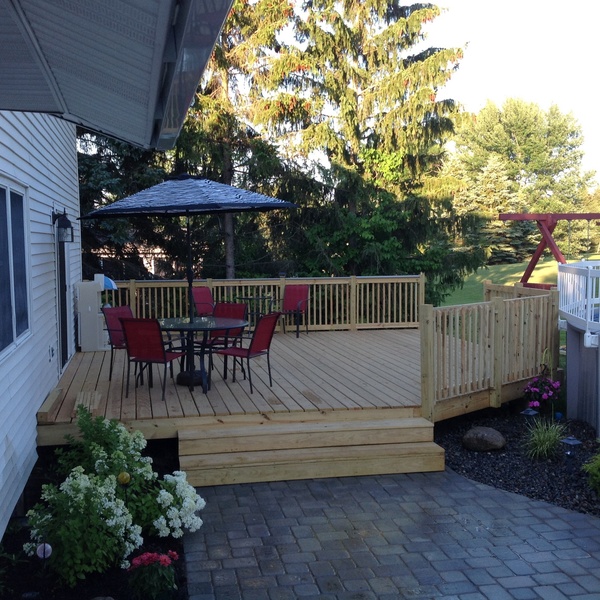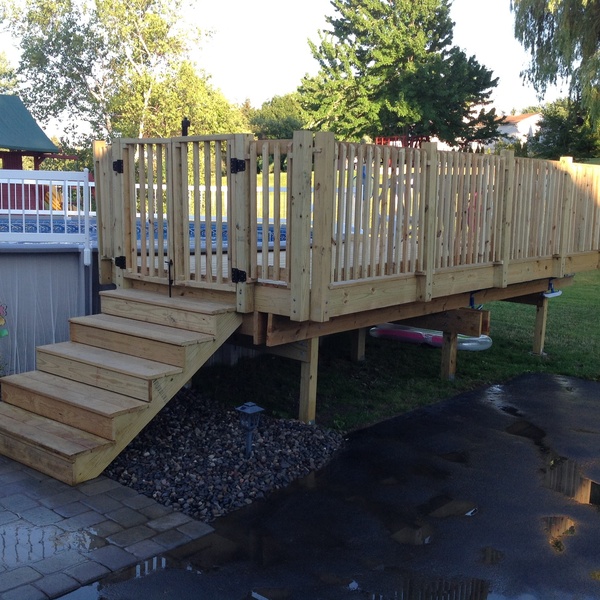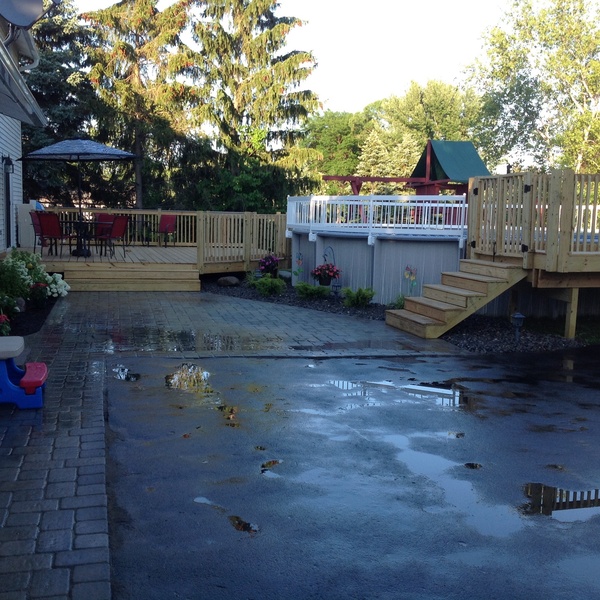 My wife and I have lived in our house for six years now, and with each passing one we talked about how we could improve our backyard. All we used to see out our sliding glass door were a few dying trees, some outdated landscaping and a flagstone patio in desperate need of repair. This was the year that I was going to do something about it! My wife wanted a new brick paver patio, where as I wanted a deck. As you can tell from the pictures, we compromised and incorporated both! I can honestly say that this entire project would not have happened if not for the Ryobi tools I purchased. Believe me when I tell you that I pushed the tools to their very limit, and they never once failed me! Not only did the tools perform great, but the time needed to recharge a battery was minimal, which meant I was able to get right back to building, and squeeze every hour out of every day! Ryobi tools will be all I buy from here on out. Thank you for a truly great product!
Sincerely,
Cory Nicolette
Show More
---
---
Members Also Viewed
back to top?
Please confirm your email address.
Select some categories to pick the kinds of projects that show up on your home page:
Welcome to your RYOBI Nation quick start guide, a fast and easy way to see everything that's waiting for you!
Your feed shows the latest projects from the categories you've selected, right on your homepage!
Are you working on something awesome? Upload your DIY projects today, and share with other members.
We award monthly and annual prizes for the best projects, worth up to $2500 in RYOBI tools! That's a lot of hardware, and it could all be yours.
RYOBI Nation is a positive connection between people who are creating great things.
You can follow fellow members, like their projects, and comment to let them know they're doing a great job.
Come back to RYOBI Nation often to see what is new and to stay in touch.
If you're on a mobile device, don't forget you can add RYOBI Nation to your home screen for quick access to your project feed.
---
Back Yard Make Over
by Cor694
Jul 17, 2014
My wife and I have lived in our house for six years now, and with each passing one we talked about how we could improve our backyard. All we used to see out our sliding glass door were a few dying trees, some outdated landscaping and a flagstone patio in desperate need of repair. This was the year that I was going to do something about it! My wife wanted a new brick paver patio, where as I wanted a deck. As you can tell from the pictures, we compromised and incorporated both! I can honestly say that this entire project would not have happened if not for the Ryobi tools I purchased. Believe me when I tell you that I pushed the tools to their very limit, and they never once failed me! Not only did the tools perform great, but the time needed to recharge a battery was minimal, which meant I was able to get right back to building, and squeeze every hour out of every day! Ryobi tools will be all I buy from here on out. Thank you for a truly great product! Sincerely, Cory Nicolette
Project Information

| | |
| --- | --- |
| Difficulty: | Advanced |
| Categories: | Exterior Spaces, Construction |

Tools Used

18V ONE+™ DRILL KIT
18V ONE+™ BATTERY 2-PACK
18V ONE+™ COMPACT DRILL KIT
18V ONE+™ 7 1/4 MITER SAW WITH LASER

Materials Used

PRESSURE TREATED LUMBER : HOUSE DECK MEASURES 20X20 AND POOL DECK MEASURES 13X18
BRICK PAVERS