Due to the holidays, our Customer Engagement Center is closed on Thursday and Friday, 11/26-27. Please note, any inquiry submissions during this extended weekend might result in a delayed response.
---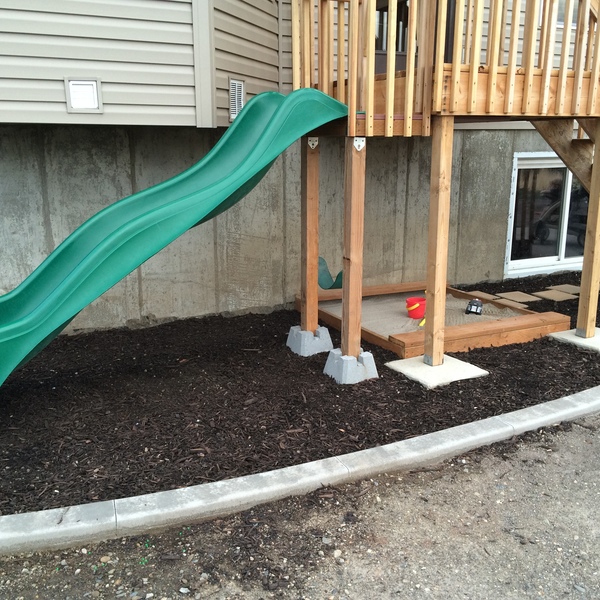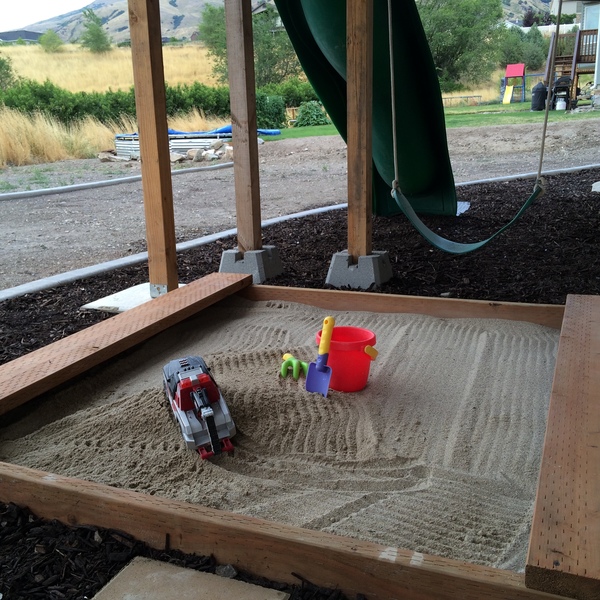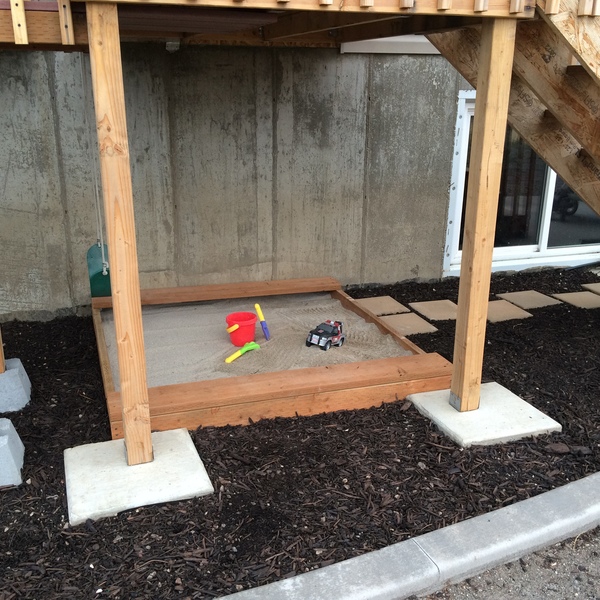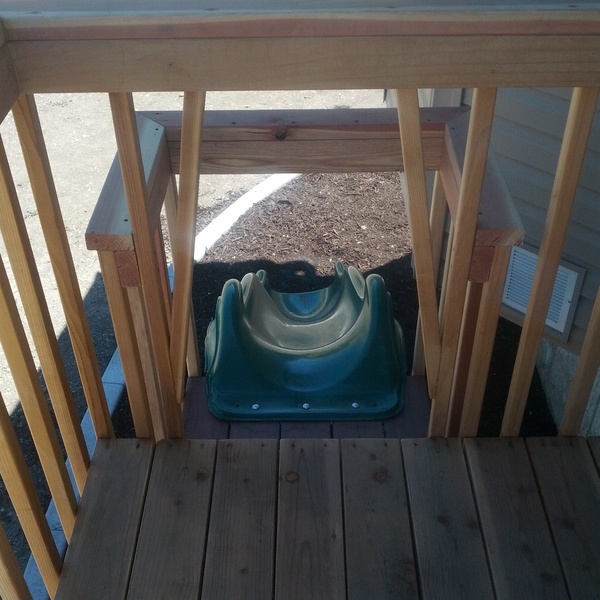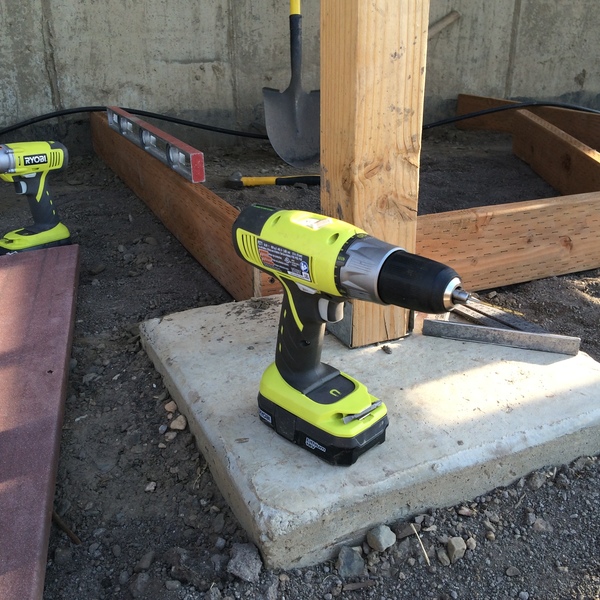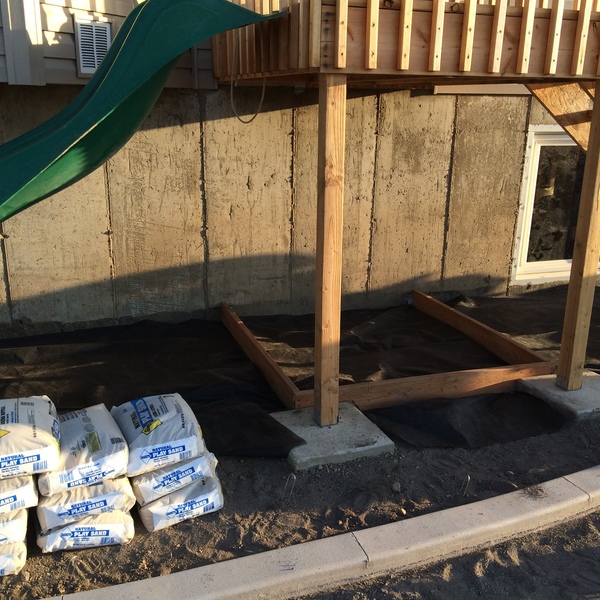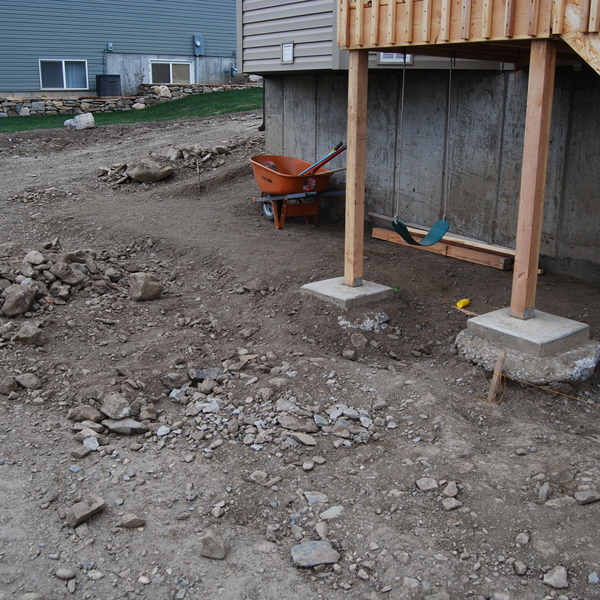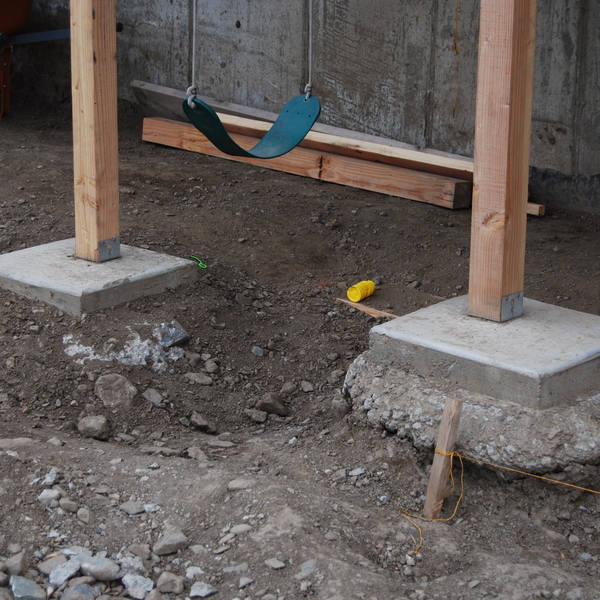 We recently built a house and have been working on the yard all summer and wanted a fun place for the kids to play. Mainly somewhere in the shade. Our house faces North and South with a deck off the back to the North. We recycled an old slide from a broken playground (which was too short for our deck) but I fixed that by adding a little deck off our existing deck. We wanted a spot where the slide wouldn't end on our grass and create a dead spot as most playgrounds do. I also didn't want to have to mow around it every week. However, there were some challenges before I could start on playground. Our footings were also poured too high so I had to drop them about 8 inches to make them level with the ground. That was a challenge because we have so many rocks. I persevered after many hours of digging and prying but finally got them where I needed. Using common boards (redwood), I also widened our deck about two feet so we had somewhere for a Grill because originally it was only as wide as the door (3'). Needless to say, I pretty much rebuilt our deck aside from the stairs. Using pressure treated 2x6's I created a perfect little area for a sand box. Once again, we used the deck as a covering and a place in the shade where the kids can play. The Ryobi impact driver and drill are awesome for driving screws and drilling holes. Especially when you have so many as on a deck. Now the kids can still play on the hot, sunny days and don't have to worry about burning themselves while sliding or wearing sunscreen! (Although sunscreen is still recommended)
Show More
---
---
Members Also Viewed
back to top?
Please confirm your email address.
Select some categories to pick the kinds of projects that show up on your home page:
Welcome to your RYOBI Nation quick start guide, a fast and easy way to see everything that's waiting for you!
Your feed shows the latest projects from the categories you've selected, right on your homepage!
Are you working on something awesome? Upload your DIY projects today, and share with other members.
We award monthly and annual prizes for the best projects, worth up to $2500 in RYOBI tools! That's a lot of hardware, and it could all be yours.
RYOBI Nation is a positive connection between people who are creating great things.
You can follow fellow members, like their projects, and comment to let them know they're doing a great job.
Come back to RYOBI Nation often to see what is new and to stay in touch.
If you're on a mobile device, don't forget you can add RYOBI Nation to your home screen for quick access to your project feed.
---
Add just a "Shade" of fun!
by T_Cook
Aug 01, 2014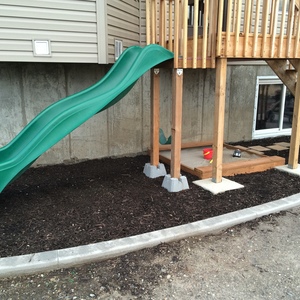 We recently built a house and have been working on the yard all summer and wanted a fun place for the kids to play. Mainly somewhere in the shade. Our house faces North and South with a deck off the back to the North. We recycled an old slide from a broken playground (which was too short for our deck) but I fixed that by adding a little deck off our existing deck. We wanted a spot where the slide wouldn't end on our grass and create a dead spot as most playgrounds do. I also didn't want to have to mow around it every week. However, there were some challenges before I could start on playground. Our footings were also poured too high so I had to drop them about 8 inches to make them level with the ground. That was a challenge because we have so many rocks. I persevered after many hours of digging and prying but finally got them where I needed. Using common boards (redwood), I also widened our deck about two feet so we had somewhere for a Grill because originally it was only as wide as the door (3'). Needless to say, I pretty much rebuilt our deck aside from the stairs. Using pressure treated 2x6's I created a perfect little area for a sand box. Once again, we used the deck as a covering and a place in the shade where the kids can play. The Ryobi impact driver and drill are awesome for driving screws and drilling holes. Especially when you have so many as on a deck. Now the kids can still play on the hot, sunny days and don't have to worry about burning themselves while sliding or wearing sunscreen! (Although sunscreen is still recommended)
Project Information

| | |
| --- | --- |
| Difficulty: | Intermediate |
| Categories: | Exterior Spaces |

Materials Used

2X4 COMMON BOARD
2X6 PRESSURE TREATED BOARDS
PLAY SAND
DECK SCREWS
WEED BLOCK
STRONG TIES AND 4X4 BRACKETS
DARK WOOD CHIPS
12 X 12 X 1 PAVERS