Return to Projects Listing
Vertical planter
Why buy it when you can make it & I've seen these popping up all over the neighborhood!
Comments (3)
---
Julieb
Very cool...so how is it done?
---
MeMeCrow
How can I get instructions on making one of these? Tks
---
Waianaegal
it looks like the pots were stacked on maybe a length of rebar or what ever piping can fit thru the drain whole... I really like this idea... would like to hear from the poster how it was done...
---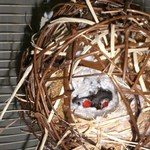 Project Information
Difficulty: Easy
also by NancyS
---
Related Projects
---
Recently Viewed Projects