Return to Projects Listing
Fireplace face and mosaic hearth
When we bought our house we didn't know that the chimney leaked. I had the fireplace insert taken out, repaired the roof and put in an electric fireplace. The mantel was already part of the wall so I decided to put a wood face on the wall. I like a lot of color so I made the mosaic mantel from a sketch I drew up myselft. I cut close to 3000 pieces of glass and put them in a curly maple frame. I epoxy sealed the mantel so my grandchildren wouldn't cut themselfs on the glass. It was a fun project and it gives lots of warmth and color to our living room. The frame around the fireplace is put on with an industrial velcro to ease in removal when we roll the fireplace out for vacuuming and cleaning. I used my Ryobi drill, 13 in planner, Ryobi palm sander, drill press and table router. Cutting the glass was very labor intensive but the results were very satisfying. Thank Ryobi for helping make this project a success in our home.
Comments (2)
---
Bigbird45
I like your use of two different mediums.
---
sandbyhand2
I've been admiring this fireplace for some time. Nice job. The glass and woodworking compliment each other quite well, although I don't think the lighting does anything to show the detail you put into this work. I am constantly zooming in because I want to see more!
---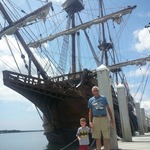 Project Information
Difficulty: Advanced
also by Meno11
---
Related Projects
---
Recently Viewed Projects