Return to Projects Listing
Pallet Wine Bar
In the middle of the polar vortex I needed something to do; being brilliant I decided to build something in my unheated garage in northern Minnesota. When I began I could only work on the project for 90 minutes before I lost feeling in my toes. Plus with a toddler, I could only work on this a few minutes at a time and only a day or two every other week.
I really had no inspiration, the design developed as I went. I had to keep things fluid because I was limited by my tools. I didn't have a Kreg Pocket Hole guide until midway through the project so for most of the joints I used a forstner bit, put two cabinet screws into each hole, and plugged with a dowel and glue. The most difficult part was not having a table saw or any kind of planer, this meant a lot of sanding…a lot.
I picked up the pallets from a local office supply store and used 3-4 to complete the project. The whole bar is made from pallets except for one, 7 inch 2x2 used to brace the middle of the table. Several of the other items I picked up from the local Habitat ReStore.
I loved the whole process of design, build, and finishing! This was my first wood working project and I now feel confident to be able to tackle more complicated projects. The wine bar was a ton of fun and I learned a lot as it went along. The two biggest things I learned were patience and allow the design to be fluid to meet your needs. In the end I have no idea what I am going to do with it since I am allergic to wine, so I built this for fun.
Comments (1)
---

KyesDad
I forgot to mention that it holds 7 wine bottles; one can be stored upright in case a bottle is open. The bar itself can hold two glasses and the server (on top) can hold an additional two glasses. I also added storage for a bottle opener, you can see this on the end shot; I took an open and closed shot.
---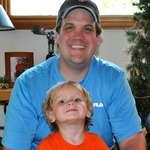 Project Information
Difficulty: Intermediate
Materials Used:
Heat Treated Pallets (3-4)
Wooden dowels
Cabinet screws
Kreg Pocket Hole Screws
Glue
Drawer pull (Habitat ReStore)
Latch (Habitat ReStore)
Craft Hinges (Habitat ReStore)
2x2x7 (one to brace the middle of the table)
Two heavy duty "L" brackets (to sure up the wine cabinet)
Dutch Oil (Mahogany)
---
Related Projects
---
Recently Viewed Projects