Return to Projects Listing
Modern Bookshelf
Turn a basic bookshelf into a modern masterpiece with a few customizations! This easy to build bookshelf features three large shelves, and two taller, shorter shelves, perfect for displaying storing your necessities or collections - think boots and shoes in the entryway or servingware in your dining room. Try caster wheels instead of feet and a reclaimed wood back for an industrial style. Or use taller legs to bring the height of the bookshelf up - this one's your's to customize to fit you and your home perfectly and beautifully!
Cutting Instructions:
Cut all of your boards first. If you are using sheet goods (MDF, Plywood or Particle Board) for the sides and shelves (1x12 boards), rip the sheet goods to 11-¾" widths, 8 feet long, with a circular saw or table saw. Then cut the ripped pieces to length as specified in the cut list.
2 - 1x12 @ 48"
3 - 1x12 @ 46-1/2"
2 - 1x12 @ 29-3/4"
1 - 1x12 @ 16"
1 - 1/4" sheet MDF @ 48" x 48"
2 - 1x2 @ 45"
2 - 1x2 @ 48"
Videos
---
Steps
---
You must be signed in to your RYOBI Nation account in order to view our Celebrity How-To project steps. Please sign in below or create a new account.
sign-in / create a new account
---
Comments (4)
---
linda7
Ana's blueprint link states: "The resource could not be found."
---
sonyahemphil
If you click the link for the blueprint, you get a broken link.
Until Ryobi Nation fixes the link, you can just backspace over the last four characters in the link (.pdf) and then hit enter and that will take you to the blueprint, which is in pdf format.
Here's the link:
http://eff5c75290b0e498bfcc-cdb2fd2cc8e016557784fa363a2704b5.r93.cf1.rackcdn.com/Bookshelf%20Video%20Project%20Ana%20White%20%282%29.pdf.pdf
Just go to the end of the link and backspace over the last four characters (.pdf) and you will get a working link.
I
---
---
LisaYvette
Love this Modern bookshelf. It will look great in my mid century redesign, living room or dinning area.
---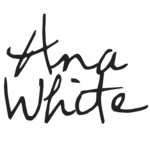 Project Information
Difficulty: Easy
Tools Used:
Materials Used:
(4) 1x12x8' boards (prefer MDF for paint) or ¾" thick sheet goods ripped 11-¾" x 8' long
(2) 1x2x8' boards (prefer MDF for paint)
(4) Leg Mounting Plates
Screws for attaching mounting plates to bottom
(4) 12" Tapered Legs
¾" and 1-1/4" staples
Wood glue
Wood filler
Sandpaper
Wall paper and adhesive (if required)
also by Ana White

---
Related Projects
---
Recently Viewed Projects