Return to Projects Listing
The Ironbound Bookcase
This DIY bookshelf project has a nice rustic, modern look and is easily created from angle irons and 2x10s. Ben Uyeda of HomeMade-Modern.com shows how to easily drill through steel and make a sturdy and versatile piece of furniture.
Videos
---
Steps
---
You must be signed in to your RYOBI Nation account in order to view our Celebrity How-To project steps. Please sign in below or create a new account.
sign-in / create a new account
---
Comments (2)
---
Hometowngirl
This appears to be so easy to make. Thanks for sharing your creativity.
---
jangoike
Did you remove rust and paint angle irons before use?
---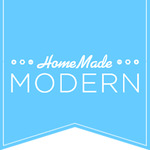 Project Information
Difficulty: Easy
Tools Used:
Materials Used:
(2) 2x10 (8' long)
36" Long 1 1/2" Square Fir Balusters
1 1/2" Angle Irons (36" long)
2 ½" wood screws
1 ½" Bright Common Nails
also by Homemade Modern

---
Related Projects
---
Recently Viewed Projects