Return to Projects Listing
DIY Garment Rack
More closet space is always a good thing. Ben Uyeda of HomeMade-Modern.com shows how to build a home for your clothes out of EMT conduit, pine boards, and a 2x8. This is an easy way to organize the things that won't fit in your closet.
Videos
---
Steps
---
You must be signed in to your RYOBI Nation account in order to view our Celebrity How-To project steps. Please sign in below or create a new account.
sign-in / create a new account
---
Comments (2)
---

RYOBIROCKS
Seriously thinking about making this to hold all my son's sport uniforms - they take up so much dresser space. Could also be great coat closet for company.
---
Ana White
This is absolutely fantastic!!!! What a great project, great design, I love it!
---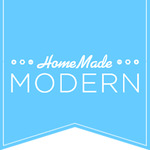 Project Information
Difficulty: Easy
Tools Used:
Materials Used:
20 feet of ½" EMT conduit
Two 18" by 48" laminated pine boards from Home Depot (3/4" plywood would work as a substitute.)
An 8 foot long 2x8
An 8 foot long 2x3
Two 90 degree EMT fittings
Skateboard wheels or casters from home depot
Two 1 ¼" diameter wood dowels 48" long.
also by Homemade Modern

---
Related Projects
---
Recently Viewed Projects