Return to Projects Listing
Board & Batten
Who has a blank and boring wall that needs a little revamping?

We have your solution!

This is a super easy and inexpensive project that works great on any wall in your house! We are going to show you how to get a customized board and batten look using a few boards and some of our favorite Ryobi Power Tools!
Videos
---
Steps
---
You must be signed in to your RYOBI Nation account in order to view our Celebrity How-To project steps. Please sign in below or create a new account.
sign-in / create a new account
---
Comments (12)
---
Socrates
I love it and had planned on doing this for our new handicapped bathroom. I love your instructions, but when I went to Home Depot, I was informed that they would not make cuts under 12 inches. Does the cutting occur at only some Home Depot locations.
And I did not mean to take away from your project or instructions as the project is better than the one I planned and explained so well. Thank you and just in time.
---
armena
Thank you for putting this video tutorial together! I've been wanting shanty2chic girls to post more how to's, this is great!
---
Robininva
You make everything look easy and cute. Easy and cute are my favs. ;-)
---
jynielsen
Classy! Thank you for the tutorial :))
---
---

Shanty 2 Chic
Thanks so much everyone for all your sweet comments! @socrates - Some Depot's say 12", but all 3 I go to will make the cuts this small. You can also use a circular saw with a guide or a table saw, but having them cut it was my best option! :-)
---
legacyofbob
I used to work at Home Depot and we were not allowed to do rip cuts (under 12 inches.) I would be very surprised if you were able to get someone to do these cuts for you there. That being said this looks great and luckily I have a table saw to do these cuts myself!
---
RM83
Surely you mean feet (') and not inches (") when talking board cuts here, no? Very confusing.
---
cko430
Thank you! My only question...Is there a good formula to use when measuring how many battwns you should have on each wall?
---
McGypsy9
I just bought my home a little over a year ago and one of the first things I said was that I wanted a wall like this in my dining room. I have been looking for just the right tutorial for this and yours fits the bill!! Can't wait to get started on it! Very nice job!
---
shyer
Were your walls textured to begin with? I have plans to do board and batten in a couple of rooms, but my walls are textured and I think it will look funny if I don't either sand the texture off or cover it with 1/8 inch mdf.
---
GeoffJenni
What paint color did you use? It's beautiful!
---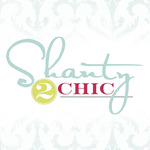 Project Information
Difficulty: Easy
Materials Used:
MDF ripped from a full sheet at The Home Depot (rather than purchasing individual boards)
Twelve (12) 3.5" boards
One (1) 7.5" board
Wood glue
Caulk
Painter's putty
also by Shanty 2 Chic

---
Related Projects
---
Recently Viewed Projects