Return to Projects Listing
The Flip Desk
I envisioned this desk as a combination home office and makeup station/vanity but it could easily work for a variety of different uses. I also drilled holes for running laptop power cables through the compartment and desktop.
Steps
---
You must be signed in to your RYOBI Nation account in order to view our Celebrity How-To project steps. Please sign in below or create a new account.
sign-in / create a new account
---
Comments (1)
---
smullens71
These instructions are not very user friendly. When I make a tutorial, I edit the directions until any lay person could read them and know step by step exactly what to do. I also include pictures to aid in understanding. Doing this prevents me from leaving out information or steps that could lead to fuzzy directions. Im sincerely just offering a suggestion, as these instructions require the reader to go back and forth, refering to the one diagram to figure out how to put the desk together.
---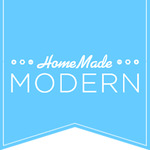 Project Information
Difficulty: Easy
Tools Used:
Materials Used:
3/4" PureBond Plywood
4' by 8' Sheet Pre-Made Table Legs
Hinges
also by Homemade Modern

---
Related Projects
---
Recently Viewed Projects