Return to Projects Listing
LOG END TABLE
I have often watched logs burning in a fireplace and wondered what the wood could have become. I purchased these logs for $2 a piece from a guy selling firewood on Craigslist. He claimed they are white oak but I am not sure. By stripping off the bark and sanding the log smooth I created a nice piece that can be used as a stool or as a side table. What's great about this project is that you can make a something for less than $10 that sells at furniture stores for more than $200.
Videos
---
Steps
---
You must be signed in to your RYOBI Nation account in order to view our Celebrity How-To project steps. Please sign in below or create a new account.
sign-in / create a new account
---
Comments (1)
---
Ooohlaa
I love love all your work ... it is clean, so methodical, meticulous and in such good design taste ... love the mediums of concrete and wood separately and together all my life, so this is a real find for me ... thanx for your methodology and fine teaching.
---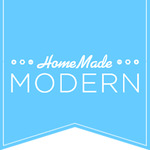 Project Information
Difficulty: Intermediate
Tools Used:
Materials Used:
Salvaged firewood logs
also by Homemade Modern

---
Related Projects
---
Recently Viewed Projects