Return to Projects Listing
CRATE GIFT BOX
Gift-wrap and fluffy bows just don't cut it if you are planning on gifting a Ryobi Power Tool. Opening your present with a crowbar or a Ryobi Cordless Power Drill? Now that's more like it.
Not only is opening a crate a fantastic experience, these sturdy crates can be repurposed into exciting new possibilities (Check out some of our ideas at Crates and Pallet after the holidays).
This easy to construct crate is the showstopper you need, especially if your gift is the Ryobi ONE+ 18V 6PC Ultimate Combo. (But you can make your crate whatever size you need)
Please note.
All measurements for this crate were based off fitting the Ryobi ONE+ 18V 6PC Ultimate Combo. This box is 19-3/4"x15"x9". We gave ourselves 2" extra on the long side and 1" on the short side and top to make sure we could get the box out.
Ryobi Box Size: 19-3/4" x 15" x 9"
Crate Interior: 22" x 16" x 10-1/2"
Crate Exterior: 23-1/2" x 17-1/2" x 12"
Videos
---
Steps
---
You must be signed in to your RYOBI Nation account in order to view our Celebrity How-To project steps. Please sign in below or create a new account.
sign-in / create a new account
---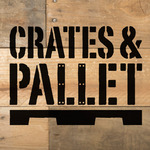 Project Information
Difficulty: Hard
Tools Used:
Materials Used:
(7) 1"x4"x8' pine board
10' of 1.5" wide reclaimed wood
Brad nails
also by Crates & Pallet

---
Related Projects
---
Recently Viewed Projects