Return to Projects Listing
Backyard update
Between two dogs and one toddler, we had to do something with our lawn. We were afraid the grass wouldn't come back this year from all the running back and forth the dogs do. Our main goal was to build a dog run to separate a section of the lawn for them. We used our Ryobi drills and impact driver to assemble our new fence. Then we added a porch swing, built completely by hand using our Ryobi tools. And finished it off with a picnic area in the back of the yard. We couldn't have done it without the help of our Ryobi tools and are looking forward to adding more to our garage.
Comments (2)
---
mdrew
How did you build the fence? I also need to contain my dogs.
---

JamieD
We bought metal fence post stakes ( type in post stakes in Home Depots website to see what I'm talking about) we didn't want to cement them in. Then attached the 4x4 posts. Used 2x4s to connect the posts on the top and bottom. The fence is welded wire and staple gunned to the 2x4s. It comes rolled so I recommend laying it out before hand to make the stretching easier. It was done in one day. The post stakes made it super easy and quick just make sure you put them in level.
---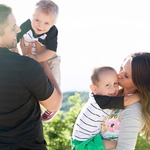 Project Information
Difficulty: Easy
Tools Used:
also by JamieD
---
Related Projects
---
Recently Viewed Projects