Return to Projects Listing
Farmhouse table
With no luck in stores searching for the perfect farmhouse table for our kitchen, my husband surprised me and built one! Thanks to his Ryobi tools he was able to make a beautiful farmhouse table that was exactly what I had envisioned.
Comments (2)
---
Hello I Live Here
Your hubby is a keeper - this table - SWOON!!! I love Ryobi Tools for this purpose - you can just build it! Our shop are full of Ryobi and I would not change it .
---

JamieD
Thanks! We love it so much! We are slowly building up our Ryobi collection, next on our list is the Ryobi nail gun... It would make all of our projects so much easier :) thanks again for the nice comment!
---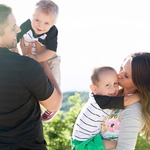 Project Information
Difficulty: Intermediate
Tools Used:
also by JamieD
---
Related Projects
---
Recently Viewed Projects