Return to Projects Listing
Making Shade In The Texas Heat_Patio Cover
This Patio project has been a nightmare from the beginning. Having very little time to complete Patio before my carpal tunnel surgery. The City took their sweet time to issue the permit. And the HOA took the allotted 30days to approve. If shipping was perfect, I would have 10days to complete before surgery. Let's just say I was hanging the ledger(2"x8"x26') one handed.
Ryobi products has been with me for years. So when I decided to treat myself with new drills on Father's Day, no one was surprised. I even got a holster for my drill. I wear it everywhere. people look at me like I'm nuts. There are over 400 screws just for the lattice alone. All my Ryobi tools has made this project go faster than expected. Even with 1.5 hands. Thanks Guys. Keep It Up.
Comments (1)
---

vegasextreme
Looks fantastic..offers a lot of shade. It takes a lot to impress me. It feels great to have your neighbors to be impressed as well.
---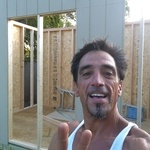 Project Information
Difficulty: Intermediate
Tools Used:
also by vegasextreme
---
Related Projects
---
Recently Viewed Projects