Return to Projects Listing
Toy Dump Truck and Bird Plaque on scrap wood
My two year old grandson likes to do two things, feed the birds and play in the dirt. I thought I would make him a toy dump truck and make a plaque with birds on it for him for this spring. Both of the items are considered one present to him because I made them at the same time from scrap wood. I used my Ryobi 9" Bandsaw, 18v Cordless drill, 6" bench grinder, numerous Ryobi Drill bits and also my Ryobi Orbital sander. The greatest pleasure comes from watching him enjoy the wildlife we see in our yard.
Comments (1)
---
sandbyhand2
Wow! Thank Goodness for Ryobi tools, right?
Love the details and the colors too. Your grandson is going to love this one also.
sandbyhand2
---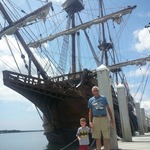 Project Information
Difficulty: Easy
Tools Used:
also by Meno11
---
Related Projects
---
Recently Viewed Projects