Return to Projects Listing
Tree bookcase
This is a plywood tree bookcase made of 6 sheets of plywood.
Comments (3)
---
AJsr
Nice bookcase. Did you cut each sheet separately and then laminate?
---
Ma-Kei
Yes I used one sheet as a templet. Nailed it to each sheet. Used a jigsaw to cut close. Then used a router with a top barring flush cutting bit. Then spread glue and nailed each sheet.
---
BL
Haven't seen this type of design before if its derivative. Enjoy originality and novelty of it. Strikes me as more of a prototype with opportunity to improve as a furniture piece. Kudos for the idea and design.
---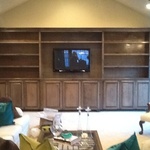 Project Information
Difficulty: Intermediate
also by Ma-Kei
---
Related Projects
---
Recently Viewed Projects