Return to Projects Listing
Halloween Animatronic Pirate Ship Stage
This is a Pirate Stage I built for my Pirate Pub Halloween display. It's made from 2x4s, 4x4s, OSB, plywood and lots of Ryobi tools. The animatronic singing pirates are computer-controlled, built and programmed by me, and the costumes were made by my wife Diane.
The stage measures 12' x 12' x 8' deep, and is taking up much of my garage.
Videos at http://www.youtube.com/user/evilbobandrews?feature=mhee
Comments (3)
---

g8ryz
Your Very Talented.. Like you projects...
---
basest
this is great! I want to trick or treat at your house.
---

---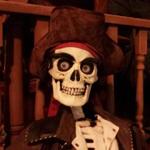 Project Information
Difficulty: Intermediate
Tools Used:
also by Evil Bob
---
Related Projects
---
Recently Viewed Projects