We are upgrading our messaging system to better assist you by email. The current ticketing process will be discontinued on Jan 31st and a new experience will be available starting February 4th. If you need assistance Jan 31st-Feb 3rd, contact us at 1-800-525-2579 9am-6pm EST. Stay tuned for Feb 4th and the release of our new email process! Thank you for your patience.
---
Hey guys! Jamin from The Handmade Home here today with a simple entryway bench. From start to finish, this little guy can be made in under two hours......or if you want to be like me, you can build 2 in a little over 3 hours.
Cut List:
* Take (2) of your 2 x 2's cut them into (1) 61 inch piece (1) 15 1/2 inch piece (1) 6 1/2 inch piece and (2) 5 inch piece.
* Take the 3rd 2 x 2, cut it into (2) 21 inch pieces (2) 15 1/2 inch piece and (1) 6 1/2 inch piece.
* Take your 1 x 6's, 1 x 3 and your 1 x 2 and cut them to 66 inches.
* On your (4) 2 x 2's cut to 5 inches, cut a 45 degree angle on both ends. The angles should be opposite of each other.
* On your (2) 21 inch 2 x 2's measure up from one end 3 inches and cut a 30 degree angle here. (Or any angle you choose for the back of the bench to recline to.)
Show More
---
Project Steps

Step: 1

Assemble the legs/base. Take your (4) 15 1/2 inch pieces (legs), your (2) 61 inch pieces and (2) 6 1/2 pieces (base) and your (4) 5 inch pieces (leg supports). Screw the legs into the 61 inch base pieces. I did this by first pre-drilling a hole using a 1/8 inch bit. I then used a 1/4 bit and drilled in about 1/2 inch. This allowed me to drive the screw in easier, and also overdrive the screw into the wood to hide it. (Note: you will want the ends of the 61 inch piece to butt up to the legs, this should give you an overall length of 64 inches.)

Step: 2

Once all (4) legs are attached to the 61 inch pieces place the (2) 6 1/2 inch pieces in-between the sets and screw them together using the same method as above. Your over all width should be 9 1/2 inches. Also, screw the 3rd 6 1/2 inch piece in the middle of the base as seen below.

Step: 3

Finally to help stabilize the legs, you will need to screw the 5 inch pieces on. Screw one end onto the 61 inch 2 x 2 and the other end to the leg. Do this for all 4 legs.

Step: 4

Constructing the seat... Spread some wood glue over the top of the base frame and place (2) of you 1 x 6's down lining one of them up with the back edge of the bench. The front 1 x 6 will hang over the edge by 1 1/2 inches. Shoot a couple nails through the boards to hold them in place until the wood glue dries. Next, place some glue your 1 x 2 and place it onto the back of the bench seat using the 1 inch side as the width, shoot some nails through it to hold it in place. This should make your seat 11 3/4 inches in width.

Step: 5

Constructing the back... First, measure from the bottom of the seat down 7 inches on both of the back legs and place a mark. Take your 21 inch 2 x 2 and screw the end that has the angled cut on it to the leg. Make sure to place the cut next to the leg. Do this on both back legs.

Step: 6

Now take the 1 x 6 and screw it to the 2 x 2's you should screwed in. Make the top of the 1 x 6 and the 2 x 2 flush with each other and of course flush with both ends of the bench.

Step: 7

Measure down 2 inches from the bottom of the 1 x 6 and screw in the 1 x 3 making sure it is flush with the ends of the neck.

Step: 8

Fill in the screw holes with wood putty and let it dry. Sand the bench and paint or stain to you desire. We went over it loosely with a nice white paint. Notice how we didn't fill everything in completely, and left some of the edges exposed. We also went in different directions with the brush, for an over all rough kind of finish for a vintage feel.

Step: 9

When the paint was dry, we cut a triangle out of cardboard (the kiddos drew on top of it when we weren't looking in case you're wondering what the drawing is about) and used it as a rough guess-timate for a fun stencil down the top part of the bench. We traced it with a pencil and then used a bit of a dry brush technique with some liquid gold leaf paint. Feel free to create whatever shape you want to go on the back. The first plank used the bottom half of the triangle, and the second plank used the top half. We kind of made it up as we went for a fun, overall vintage modern effect.

Step: 10

You're done! We use our bench as a statement piece with a lot of character. Not to mention, it opens up our foyer area, and serves as a great space for the shoes/drop off/catch all area that every home has, and our kids love it. It adds quite a bit of style for the holidays. A fresh change just in time for all those guests! Have an inspired day! (Note: This is an entryway piece, not a rough and tough park bench.)
---
Members Also Viewed
back to top?
Please confirm your email address.
Select some categories to pick the kinds of projects that show up on your home page:
Welcome to your RYOBI Nation quick start guide, a fast and easy way to see everything that's waiting for you!
Your feed shows the latest projects from the categories you've selected, right on your homepage!
Are you working on something awesome? Upload your DIY projects today, and share with other members.
We award monthly and annual prizes for the best projects, worth up to $2500 in RYOBI tools! That's a lot of hardware, and it could all be yours.
RYOBI Nation is a positive connection between people who are creating great things.
You can follow fellow members, like their projects, and comment to let them know they're doing a great job.
Come back to RYOBI Nation often to see what is new and to stay in touch.
If you're on a mobile device, don't forget you can add RYOBI Nation to your home screen for quick access to your project feed.
---
ENTRYWAY BENCH
by The Handmade Home
Mar 21, 2014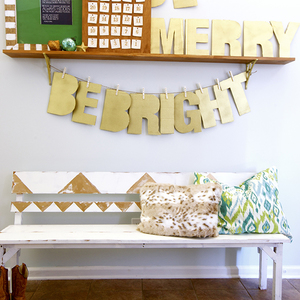 Hey guys! Jamin from The Handmade Home here today with a simple entryway bench. From start to finish, this little guy can be made in under two hours......or if you want to be like me, you can build 2 in a little over 3 hours. Cut List: * Take (2) of your 2 x 2's cut them into (1) 61 inch piece (1) 15 1/2 inch piece (1) 6 1/2 inch piece and (2) 5 inch piece. * Take the 3rd 2 x 2, cut it into (2) 21 inch pieces (2) 15 1/2 inch piece and (1) 6 1/2 inch piece. * Take your 1 x 6's, 1 x 3 and your 1 x 2 and cut them to 66 inches. * On your (4) 2 x 2's cut to 5 inches, cut a 45 degree angle on both ends. The angles should be opposite of each other. * On your (2) 21 inch 2 x 2's measure up from one end 3 inches and cut a 30 degree angle here. (Or any angle you choose for the back of the bench to recline to.)
Project Information

| | |
| --- | --- |
| Difficulty: | Easy |
| Categories: | Crafts & Decor, Furniture |

Tools Used

18V ONE+™ DRILL KIT
10 IN. SLIDING COMPOUND MITER SAW WITH LASER
18V ONE+™ AIRSTRIKE™ 18GA BRAD NAILER

Materials Used

(4) 2 X 2 X 8
(3) 1 X 6 X 6
(1) 1 X 3 X 6
(1) 1 X 2 X 6
BOX OF #10 1 3/4 INCH SCREWS
WOOD GLUE
WOOD PUTTY
Project Steps
Step: 1

Assemble the legs/base. Take your (4) 15 1/2 inch pieces (legs), your (2) 61 inch pieces and (2) 6 1/2 pieces (base) and your (4) 5 inch pieces (leg supports). Screw the legs into the 61 inch base pieces. I did this by first pre-drilling a hole using a 1/8 inch bit. I then used a 1/4 bit and drilled in about 1/2 inch. This allowed me to drive the screw in easier, and also overdrive the screw into the wood to hide it. (Note: you will want the ends of the 61 inch piece to butt up to the legs, this should give you an overall length of 64 inches.)

Step: 2

Once all (4) legs are attached to the 61 inch pieces place the (2) 6 1/2 inch pieces in-between the sets and screw them together using the same method as above. Your over all width should be 9 1/2 inches. Also, screw the 3rd 6 1/2 inch piece in the middle of the base as seen below.

Step: 3

Finally to help stabilize the legs, you will need to screw the 5 inch pieces on. Screw one end onto the 61 inch 2 x 2 and the other end to the leg. Do this for all 4 legs.

Step: 4

Constructing the seat... Spread some wood glue over the top of the base frame and place (2) of you 1 x 6's down lining one of them up with the back edge of the bench. The front 1 x 6 will hang over the edge by 1 1/2 inches. Shoot a couple nails through the boards to hold them in place until the wood glue dries. Next, place some glue your 1 x 2 and place it onto the back of the bench seat using the 1 inch side as the width, shoot some nails through it to hold it in place. This should make your seat 11 3/4 inches in width.

Step: 5

Constructing the back... First, measure from the bottom of the seat down 7 inches on both of the back legs and place a mark. Take your 21 inch 2 x 2 and screw the end that has the angled cut on it to the leg. Make sure to place the cut next to the leg. Do this on both back legs.

Step: 6

Now take the 1 x 6 and screw it to the 2 x 2's you should screwed in. Make the top of the 1 x 6 and the 2 x 2 flush with each other and of course flush with both ends of the bench.

Step: 7

Measure down 2 inches from the bottom of the 1 x 6 and screw in the 1 x 3 making sure it is flush with the ends of the neck.

Step: 8

Fill in the screw holes with wood putty and let it dry. Sand the bench and paint or stain to you desire. We went over it loosely with a nice white paint. Notice how we didn't fill everything in completely, and left some of the edges exposed. We also went in different directions with the brush, for an over all rough kind of finish for a vintage feel.

Step: 9

When the paint was dry, we cut a triangle out of cardboard (the kiddos drew on top of it when we weren't looking in case you're wondering what the drawing is about) and used it as a rough guess-timate for a fun stencil down the top part of the bench. We traced it with a pencil and then used a bit of a dry brush technique with some liquid gold leaf paint. Feel free to create whatever shape you want to go on the back. The first plank used the bottom half of the triangle, and the second plank used the top half. We kind of made it up as we went for a fun, overall vintage modern effect.

Step: 10

You're done! We use our bench as a statement piece with a lot of character. Not to mention, it opens up our foyer area, and serves as a great space for the shoes/drop off/catch all area that every home has, and our kids love it. It adds quite a bit of style for the holidays. A fresh change just in time for all those guests! Have an inspired day! (Note: This is an entryway piece, not a rough and tough park bench.)