Media : General
Tool Test: The Solar Jobsite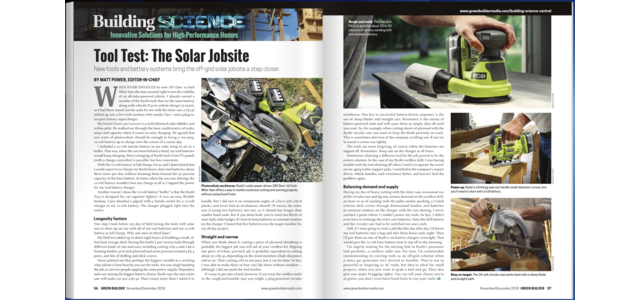 New tools and battery systems bring the off-grid solar jobsite a step closer.
When Ryobi unveiled its new 18V ONE+ 10-inch Miter Saw, the time seemed right to test the viability of an all-solar powered jobsite. I already owned a number of the Ryobi tools that use the same battery, along with a Ryobi P1311 in-vehicle charger (a must), so I had them round out the suite for me with the miter saw, a P5231 orbital jig saw, a five-inch random orbit sander P411 - and a plug-in, six-port battery supercharger.
My friend Oscan van Loveren is a well-informed solar dabbler and airline pilot. He walked me though the . basic mathematics of watts, amps and capacity when it comes to solar charging. He agreed that 200 watts of photovoltaic should be enough to bring a 100-amp, 12-volt battery up to charge over the course of a sunny day.
I included a 12-colt marine battery in my solar setup to act as a buffer. That way, when the sun went behind a cloud, my tool batteries would keep charging. Direct charging of Ryobi tools from PV panels (with a charge controller) is possible, but less consistent.
With the 12-volt battery at full charge, Oscar and I determined that I could expect to re-charge my Ryobi heavy duty tools batteries about three times per day, without draining them beyond the 50 percent capacity of the base battery. At times when the sun was shining, the 12-colt battery wouldn't lose any charge at all as I tapped the power for my tool battery charger.
Another reason I chose the 12-colt battery "buffer" is that the Ryobi P131 is designed for car cigarette lighters. It was an easy, flexible hookup. I just attached a pigtail with a female socket for a q12-volt charge to my 12-volt battery. The charger plugged right into the socket.
---
RYOBI 1600 PSI Electric Pressure Washer Fact Sheet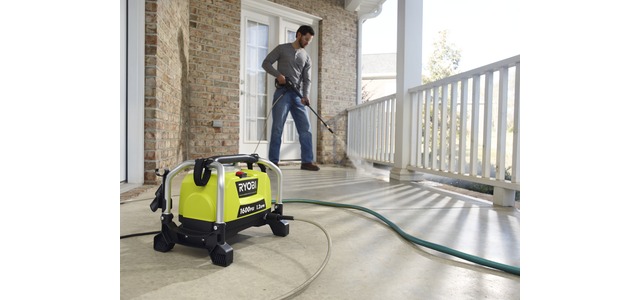 ---
RYOBI 2800 PSI Gas Pressure Washer with PowerControl Technology
---
RYOBI 2000 PSI Electric Pressure Washer Fact Sheet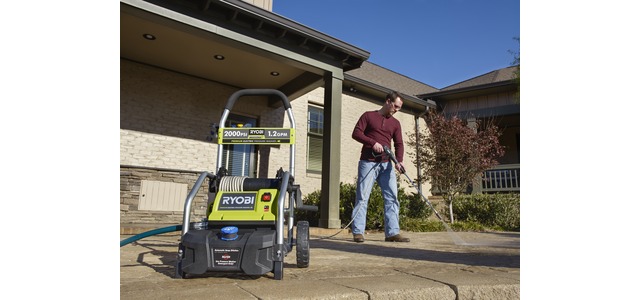 ---
RYOBI Electric Pressure Washers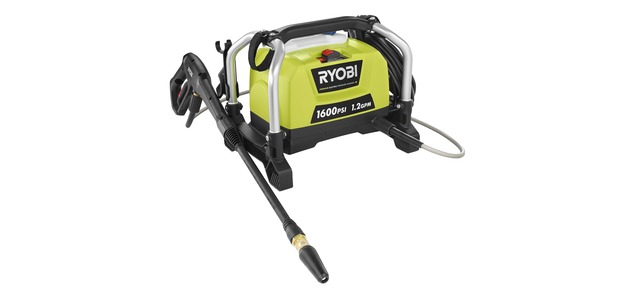 (ANDERSON, SC) – Techtronic Industries Power Equipment is introducing two new RYOBI electric pressure washers to its line-up of outdoor power equipment. Due to the success of the 1700 PSI Electric Pressure Washer, the outdoor power equipment company will no offer a 1600 PSI Electric Pressure Washer and a 2000 PSI Electric Pressure Washer.
All of the RYOBI electric pressure washers combine the convenience of a gas-free unit with the power of a 13 amp motor. Each unit comes with a Turbo Nozzle that provides fifty-percent more cleaning power and on-board accessory storage for user convenience. The entire line is backed by a three year warranty.
The 1600 PSI Electric Pressure Washer is small enough to carry around the house, boat or jobsite, but powerful enough to tackle cleaning projects. Featuring a unique handheld design, on-board detergent tank, and compact roll-cage fame; the unit is one of the most portable and durable pressure washers on the market.
The 1700 PSI Electric Pressure Washer made its debut last year, highly rated for its easy-to-use design. The pressure washer features an on-board detergent tank for easy soap application, and a metal roll cage frame for durability.
The 2000 PSI Electric Pressure Washer is perfect for cleaning driveways, decks and windows. The unit boasts Pressure Plus Technology™ for added power, an on-board hose reel for user convenience and a removable detergent tank for easy soap application and hassle-free clean-up.
Both new pressure washers are available exclusively at The Home Depot and HomeDepot.com
RYOBI Outdoor Power Equipment
The RYOBI brand is the number-one choice for millions of homeowners, outdoor enthusiasts and value-conscious contractors. RYOBI outdoor products offer innovative, consumer-focused power equipment and accessories at an affordable price without compromising pro features. Each gas powered, electric and cordless RYOBI outdoor line is sold exclusively through The Home Depot. For more information, visit ryobitools.com.
###
---
Categories
Product Line