Media
---
RYOBI 18V One+ Band Saw Review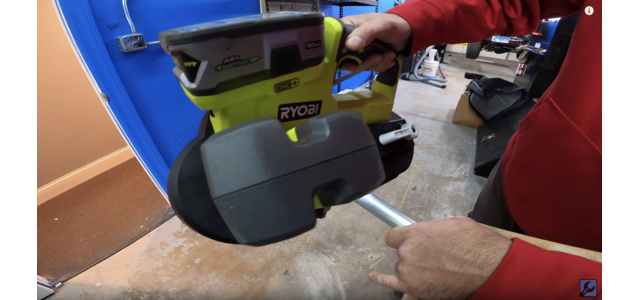 Tools In Action reviews the RYOBI 18V One+ band saw!
Watch the video review here.
---
RYOBI P590 18V ONE+ BAND SAW REVIEW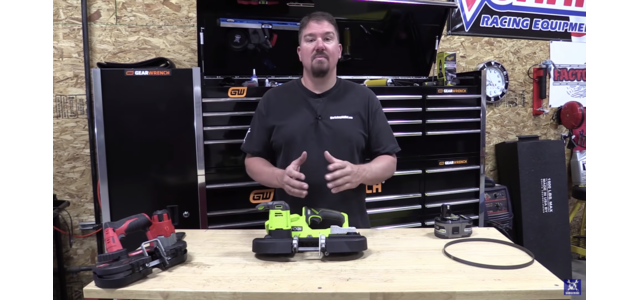 WorkshopAddict reviews the P590 Band Saw.
Ryobi Tools has a new 18v Cordless 2-1/2" Portable Band Saw that will be sold for approximately $99 bare tools. This is a brushed model with a 32-7/8" blade. Two are included in the box.
The new Ryobi P590 18V 2-1/2" Cordless Portable Band Saw will use any of the Ryobi 18-volt batteries and has a 2-1/2" width of cut with about 3" depth of cut. The automatic blade tension now allows for an easy blade change. There are two adjustment screws to adjust the blade tracking along with an adjustable material stop.
This is a awesome tool to be available on the Ryobi 18-volt line as these are very handy tools for cutting metal, PVC and even wood if one wanted.
We compare the build quality to the Milwaukee M12 showing the metal bracing of the Milwaukee to the plastic of the Ryobi P590. While we did not see or feel much flex, the plastic would be more likely to than metal.
Watch the video review here.
---
NBC 10 Home Pro: Shop Vacs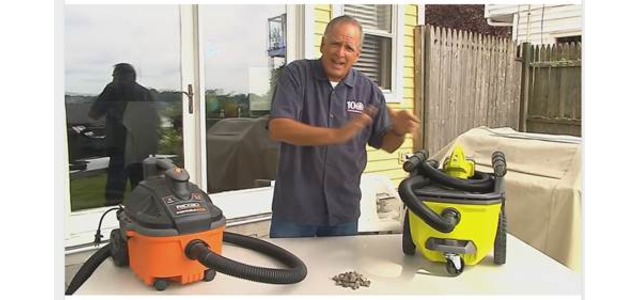 This week's Home Pro topic with Bruce Morris is about shop vacs.
---
Ryobi P317 18V 3/8 Inch Crown Stapler Honest Review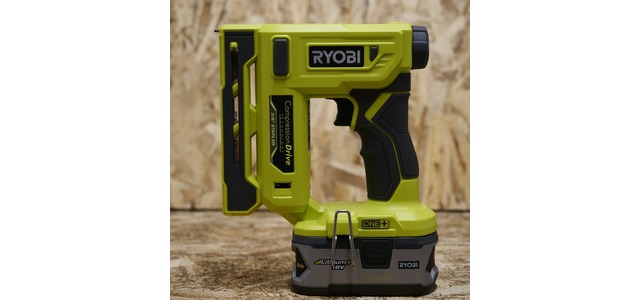 In February, we learned about the Ryobi P317 18V 3/8 Inch Crown Stapler which offers the ease of use and performance of an electric stapler with the portability only a battery powered tool can offer. In this review article we will check it out and go over it's features and perfor
MANUFACTURER SPECS:
Battery: 18V
Type of Staples: 3/8 in.
Magazine Capacity: 85
Staple Length: 1/4 in. – 9/16 in.
Staples per Charge: Over 5,500* (with 4.0ah battery)
Tool Weight: 3 lbs.
includes: P317 3/8 in. Stapler, 160 steel 1/2 in. staples, dual wire/screen attachment, belt clip, operator's manual
FEATURES:
The Ryobi P317 18V stapler uses the very common Arrow T50 style staples found just about everywhere and the stapler has a variety of uses such as installing in wall insulation, upholstery, etc. Being a battery powered tool, everything needed to operate the tool is on board including the motor, compression chamber and battery pack that must be inserted in order to operate the tool and all you have to do is do a simple press of the trigger to install staples. This is much easier than squeezing a manual hand powered stapler and I find it that there is much less fatigue with prolonged use.
This particular cordless stapler uses similar technology from Ryobi's previous cordless nailers in the sense that it uses a compression chamber to compress air which in turn is the driving force that fires staples. Although I'm not exactly sure how similar or different it is compared to their previous nail guns, what I can tell you is that it is called "Compression Drive Technology" on this new stapler while it's called AirStrike Technology on their previous nailers.
It's magazine is the same as the ones you'd find on better featured staplers as it's very simple to use and install new staples. A simple press on the tabs at the back of the magazine allows you to open the magazine to insert new staples and they go in on on the underside while the unit is held upside down. Then once the staples are in place you can close the magazine and it locks into place. This is much better than the older magazines that required a bit more work and is not just easier, but faster too.
The magazine itself has viewing windows on both left and right sides of the unit to check your remaining staples and to see when you're running low however only the left side of the magazine actually shows remaining staples. The right side while having a viewing window, does not show any staples when inserted. I'm not sure why this is but if you're a left handed user, you wont be able to easily check the magazine window as you'll have to turn the stapler to it's left side facing you to check remaining staples. It's not a big deal to me since I am a right handed user and naturally would check the left side of the stapler anyways but it might be a nuisance if you're a lefty.
The magazine window also doesn't go all the way up to the top meaning that once your remaining staples reaches a low amount of about 10-15 staples you won't be able to know if you are completely out or still have a few but if you can't see any at all it's safe to say it's time to reload.
On the top of the unit towards the back you'll find a "Drive Force Indicator" window that allows you to check and set your desired amount of pressure for staple firing. This is change the depth of each staple driven whether you want them to lay flush, above flush or sub flush depending on your needs. To change the desired pressure, there's a dial on the back that allows you to increase or decrease the driving force.
As a safety feature, this cordless stapler will not fire unless it makes contact with the surface. This is so you don't accidentally fire any staples at yourself or others which would lead to injury.
While this stapler operates similarly to other cordless staplers, there are a few key features missing on this Ryobi stapler such as dry fire lockout and bump fire modes. The lack of dry fire lockout means that it will still attempt to fire staples even when the magazine is completely out. This means that the stapler will leave small indents on the work surface when it actuates while empty. In my opinion this isn't a big deal because these kinds of staplers aren't used on parts of the project that will be shown, so a few dimples as a result of misfires aren't going to ruin the project. As far as the lack of bump fire mode goes, I would have preferred if it did have this feature but a regular manual hand stapler doesn't have that feature or dry fire lockouts so in that sense you're not missing much if you're upgrading from the hand powered option. However I will mention that Milwaukee's M12 Stapler which is very similar in design to this unit, (not a surprise since they're both made by TTI), does offer proper nail gun feature such as dry fire lockout and bump fire mode along with a magazine viewing window that goes all the way up to the tip so you'll be able to know you're completely out of staples. At the time of writing, both the Ryobi 18V cordless stapler and the Milwaukee M12 stapler are the same price of $79 (M12 stapler used to be $99 baretool) which makes the M12 model a bit more appealing at the same price point. However if you're in the Ryobi 18V system, it wouldn't make much sense to jump on the Milwaukee M12 version of the stapler since you'd have to invest in another battery and charger platform and have to hassle with juggling two sets of incompatible batteries. I'd stay put in the Ryobi system if I was invested only in the Ryobi system.
The Ryobi 18V P317 stapler when compared to a traditional manual hand powered stapler, is heavier at 3 lbs baretool and when paired with the 4.0 ah battery I tested it with was a total of 4.5 lbs which makes it considerably heavier than the hand powered option. It's also bulkier because the battery pack adds some bulk to the bottom of the unit. Some may complain saying Ryobi's cordless version is too heavy or too bulky and they may have good reason to say so however I believe the added weight and bulk are a good compromise because it's a lot easier to use than a hand powered stapler. You won't get tired from the weight of a hand powered stapler when carrying it all day but you will get fatigued from squeezing and pumping it's handle to pump out staples over and over. This is something I can't say of the cordless battery option which is less tiring over long periods of use since a simple trigger press is all that's needed to fire staples.
Ryobi also includes a clip on dual screen/wire attachment which "allows installation that guides staples without penetrating wire or screen". I'm not exactly sure what this is for but I would assume it's for installing something like the wire mesh needed for adding stucco to the exterior of a building. I have no comments or opinions about this attachment since it's not something I've ever used or needed in the past but it might be useful for others. What I can say about it is that it is double sided and it clamps onto the front top of the stapler near the firing mechanism which is used to set the appropriate spacing for a specific application.
Other features include a belt clip that must be installed prior to use and can be placed on left or right hand side of the unit, ergonomic handle with textured rubber grip, no mar rubber bumpers on sides of the stapler and a brushed motor.
PERFORMANCE:
Long time Tool Craze follower Glenn has one of the older blue Ryobi 18V P300 staplers and was saying his unit was underpowered and required the assistance of a hammer to fully seat it's staples. I've never tried that older model before so we'd have to take his word for it and it's safe to say that the new P317 model is a very big improvement in the performance department. First of all it had no problem sinking staples into softwood lumber such as 2×4's and was very consistent. In my testing, full power consistently sets staples subflush into the material, medium power sets staples consistently flush with a few subflush and a few above flush and the lowest power setting sets staples consistently barely above flush. Slightly above flush is perfect in most cases as it would not puncture the material being fastened such as the paper backing found on in wall insulation. When installing in wall insulation you wouldn't want the staples to be flush or sub-flush since that would tear the paper and ruin the grip strength of the staple so personally I'd just set this stapler on it's lowest power setting and forget it.
I've set several hundred staples with this new P317 stapler and not only does it consistently set them deep enough but none were improperly seated or required additional hammering to set correctly nor were there any that needed to be pulled out. So it's a very consistent performer. As a disclosure, I haven't set thousands of staples with it yet so I'm sure it'll have the occasional improperly set staple at some point but so far it doesn't look like that should be a concern any time soon.
I've used Ryobi's Airstrike nailers many times in the past and currently own the 15 gauge nailer. They're great nailers, with plenty of power and are very reliable. One thing that instantly stands out with the Airstrike models, is that they have a delay between trigger press and nail fire. This is because they have to compress air in a short amount of time to fire nails and staples. It's not what I would call slow as they are still fast but there is a delay and It's noticeable. That's what's interesting about this new P317 model with it's newer compression drive tech because staple fires are instantaneous and fire just as fast as you can press the trigger. There's no delay whatsoever and it performs more like a typical electric corded plug in stapler.
I mentioned that there wasn't a bump fire mode on this stapler which can be found on the M12 Milwaukee version or other cordless nailers and staplers however considering the fact that this Ryobi P317 stapler lays down staples so fast and instantly that in my opinion, it doesn't need a bump fire mode to be quick. Sure, I'd still prefer the actual bump fire mode to hold the trigger down and bump to fire over and over but I can still achieve multiple staple fires in a similar amount of time as I would with bump fire with repeated trigger presses. I would also go on and say it can be faster than a hammer tacker stapler since it's faster to press a trigger and fire than it is to swing a hammer tacker over and over.
As far as runtime goes, according to Ryobi, you can expect over 5,500 staples driven with a P108 4.0 ah battery which is very impressive runtime for a cordless nailer. I didn't test for runtime but I wouldn't have any doubts that it can actually reach that number or close to it.
CONCLUSION:
While the Ryobi P317 18V stapler has a few quirks such as only being able to see remaining staples on one side of the magazine and the lack of standard nail gun features such as dry fire lockout and bump fire mode, I still feel they hit a home run with this stapler as it's an excellent performer since it lays down staples instantly and without any delay, has the performance to consistently set staples to the desired depth, has excellent runtime and is very easy to use since it will not tire you out like a hand stapler would. It appears to be a big upgrade in the performance department compared to the previous blue series P300 stapler. The Milwaukee M12 Stapler might offer more bells and whistles for the same price point, I'd say that if you're invested in the Ryobi 18V cordless system and need a battery powered stapler that uses Arrow T50 style staplers, look no further than the Ryobi P317 model.
PRO'S:
solid performance drives staples to desired depth consistently
instant firing, no delay like on Airstrike models
excellent rated runtime of over 5,500 staples per charge with 4.0ah battery
very simple and easy to use
CONS:
no dry fire lockout
no bump fire mode
only left side of magazine window displays remaining staples
remaining staples magazine window does not go all the way to the tip to show if completely out of staples
heavier and bulkier than hand staplers although it is easier, faster and less tiring to use than hand stapler
Read the full review by Javier here
---
Ryobi P3150 18V Heat Gun Honest Review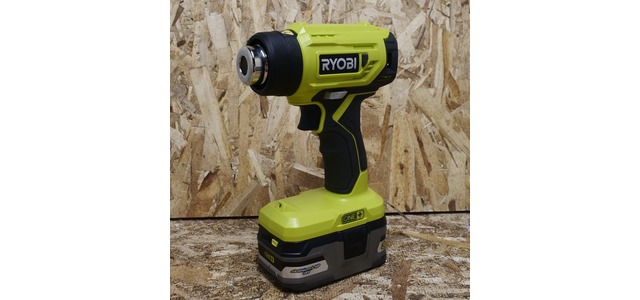 In March, we learned about the Ryobi P3150 18V Heat Gun which offers the ease of use and performance of an electric heat gun with the portability only a battery powered tool can offer. In this review article we will check it out and go over it's features and performan
MANUFACTURER SPECS:
High temperature of 875° F
Reaches operational temperature in less than 10 seconds for increased productivity
Deflector nozzle increases productivity for applications such as shrink tubing and pipe thawing
Concentrator Nozzle intensifies heat for specific areas
LED Work Light illuminates workspace for increased visibility

Max Temperature: 875° Farenheight
CFM: 6
Weight: 1.4lbs (baretool)
Price $99 (baretool)
FEATURES:
One of the greatest feature of Ryobi's 18V cordless lineup is the large variety of products ranging from diy home use to trade specific tools to outdoor tools and everything in between and it's no surprise to see Ryobi add yet another unique tool to their lineup with the P3150 cordless heat gun. Being part of the One + system means any Ryobi 18V battery, whether it's the old nicad's or the newer lithium batteries, they all work with this new tool.
The P3150 heat gun reaches a max temperature of 875 degrees and reaches operating temperature in less than 10 seconds. As far as features go, it's very basic with a on/off trigger with safety buttons that must be pressed in order to operate and an LED at the base of the handle to illuminate the working area in dim light. There are no advanced features like variable temperature control settings, no multiple air speeds and there isn't even a lock on button which means you have to press the trigger the entire time you use this heat gun. However Ryobi does include a couple of add on accessories that do make using this heat gun a lot easier and faster to work with such as a deflector nozzle and concentrator nozzle. Both of these accessories come bundled with the unit and the concentrator nozzle is a step down cone to concentrate heat into a specific point and the deflector nozzle has a wrap around flap that forms an arc to heat the front back and sides of something and is perfectly suited for heat shrink tubing.
The overall design is very simple but you do get Ryobi's usual finishing touches like their nicely ergonomic handle which was first introduced in their first generation brushless tools but has now trickled down into all new Ryobi 18V cordless tools and the handle itself is very ergonomic with a nice bump that separates your ring and middle finger and holds them in place and the top of the handle slims and tapers down for comfortable ergonomics. The handle itself features their nicely textured rubber overmold which is very grippy.
Because Ryobi's battery packs are flat bottomed, this gives the Ryobi 18V heat gun the ability to stand up just like the rest of their cordless tools do. This is a characteristic all 18V tools share not just Ryobi's but what's interesting about this feature on a heat gun is that you don't see any other corded plug in heat guns that can stand up. This gives the Ryobi 18V heat gun an edge over corded heat guns just for the fact that you can stand it up when not in use so as to not worry about damaging delicate surfaces from heat from the hot metal tip.
Right now the Ryobi P3150 cordless heat gun comes as a baretool only and is priced at $99. This is $30 cheaper than Milwaukee's cordless M18 heat gun which is also made by parent company TTI. You don't miss too much going with Ryobi's heat gun since the only extra physical feature on the Milwaukee heat gun is a fold out ladder hook which is not found on the Ryobi version. Other than that both are very similarly featured units and both have a max 875 degrees heat output. I also want to mention that there are many heat guns on the market that go for far less than $99, even lower than $50, and will probably perform better but keep in mind that this unit is cordless meaning you don't need to plug in and can work anywhere even where there's no power. Also cordless power tools always command a higher price point since there's a premium for going cordless but with that said, Ryobi's 18V heat gun is still the lowest priced options from the top brands at the moment. As was mentioned above, the Milwaukee M18 heat gun is $30 more at $129 and Dewalt's latest 20V heat gun goes for $119 baretool making the Ryobi 18V the cheapest of the three so far. There's also a cordless Ridgid 18V heat gun but that one works a bit differently as it uses Butane as the power source along with the battery to power it all but even then it's still priced more than Ryobi's at $129.
PERFORMANCE:
I'll start off by saying I've never used a heat gun before, or rather I should say I've never used a real power tool heat gun as for the the few times I've ever needed a heat gun, I just borrowed my wife's hair dryer which is a sort of heat gun if you think of it. A hair dryer got the few jobs done however very poorly since that's not what it's used for. I mostly used it for removing stickers and such and even that would take ages. After trying out Ryobi's 18V heat gun, the difference between using this and a hair dryer is night and day. Not only does it reach a much higher temperature it also does so much faster. I tried it out on removing stickers and was able to do so in a fraction of the time and that was when using the heat gun without any of it's attachments. Once I installed the concentrator nozzle, it got the work removing stickers even faster in less than half the time it takes without the nozzle.
I also tested the Ryobi heat gun on some heat shrink tubing and worked very well without any nozzle attachments and after installing the deflector nozzle, it too cut the time it took to heat shrink tubing down to less than half the time without the nozzle since I didn't need to manually go over all sides of the heat shrink tubing. All in all I was very pleased with the performance that came out of the Ryobi cordless heat gun.
The P3150 heat gun reaches a max temperature of 875 degrees and reaches operating temperature in less than 10 seconds. I tried testing these claims myself with my Flir C2 thermal imager but to no avail since the thermal imager maxes out 356 degrees.
The heat gun is also well designed since the heat is contained at the tip of the unit. What I mean by this is that after long periods of use, the handle never got hot or even warm so no worries about every having to burn your hand from regular use. Even the top section of the body behind the front doesn't get hot and barely got warm after minutes of use. This means you can pick up the heat gun from the top of the unit even after it's been used and not have to worry about harm.
You should never touch the tip after use as that does stay very hot even after several minutes which is common sense. There's a plastic collar surrounding the metal tip and surprisingly doesn't get hot immediately after use. However once the unit has been used and after 5 minutes of downtime, the plastic collar does start to get very warm at a tested 113 degrees. Not enough to harm you but it's just a heads up and I wouldn't hold on to that for more than a few seconds.
RUNTIME:
As far as runtime goes, Ryobi says you can get up to 20 minutes of runtime with this heat gun when paired with their newer 6ah batteries. I don't have any on hand to test their claim but after a few minutes of use with the new Lithium+ HP 3.0 ah battery, I did see the fuel gauge bars start to drop fast after continuous use. Of course larger batteries such as 4ah, 6ah and even their 9ah batteries will help with better runtime however if you need to work all day, I'd suggest getting a corded heat gun instead. This cordless heat gun is better suited for a few quick uses here and there, otherwise you'd better have extra batteries for continuous use.
ROOM FOR IMPROVEMENT:
So far performance is good on this unit and is a huge improvement over a hair dryer for use with DIY projects around the house. Although that's not to say the Ryobi heat gun is perfect. I would have liked a lock on button for extended periods of use and the 6 CFM's of air volume is ok but would have liked it to push more air but I don't find either of these as deal breakers. Also would have been nice to see variable heat settings but again for my uses it was not necessary so not a deal breaker and would no doubt raise the price point if they included such a feature. But that's what we like about Ryobi, we might skip a few features but for a lower more affordable price point than the pro brands so everything looks good for this unit.
PROS:
reaches operating temperature quickly
includes concentrator and deflector nozzles which speed up work
handle does not get warm or hot after extended use
LED light to help in low light
CONS:
no lock on button for extended use
Read the full review by Javier here
---
Categories
Product Line