Media / Editorial Reviews
---
Ryobi Impact Wrench Review
Are you a weekend warrior who likes to work on their car but it's not at their forefront of the to-do list? If so, this Ryobi impact wrench might be a great solution for you. I have a family and so many things going on every week. While I love working on things around the house such as my truck, I would rather do other things, like spend time with my family. However there are those tasks I want to tackle. I just don't want to spend a fortune on an impact wrench when a majority of its life it will be sitting on the shelf. So let's jump into the Ryobi Impact Wrench Review.
Ryobi Impact Wrench – Information
Ryobi Impact Wrench – Features
The Ryobi puts out 150 ft.lbs of torque which is powerful for an impact wrench under $100.
The wrench produces 3,400 impacts per minute with 3-speed settings which means this can be used on a variety of applications.
The unit is powered by the Ryobi 18V battery which also is used for a wide variety of other Ryobi products.
The impact wrench uses a 3/8″ anvil that is a hog ring.
One awesome feature is the three bright LED lights that help eliminate shadows and shine up your work.
The handle has a typical Ryobi tool grip that has a very nice rubber over-mold.
On the back of the unit, you have three-speed settings that will adjust the ipm speed.
Speed 1 – 0-1,700/min
Speed 2 – 0-2,500/min
Speed 3 – 0-3,200/min
On the base of the unit, there is a magnet to hold smaller nuts or bolts.
Ryobi Impact Wrench – Impressions
For an impact that is priced under $100, I think it's powerful and built well. While you won't be removing semi-truck lug nuts, it's a perfect option for the homeowner who needs a wrench but doesn't need the power of removing semi-truck tires.
Overall it's powerful and I like the speed selection on the back of the tool, which makes it easy to change on the fly with your thumb.
Ryobi Impact Wrench – Final Thoughts
While the impact wrench is on the heavy side, I am okay with that since I am not using it all the time. For me, the price and quality are what I want in my wrench. The Ryobi is an easy decision for me as I need power, but not the price tag of a professional wrench. I love how many tools are in the Ryobi line up so even if the wrench sits around a lot for me, I can use the battery in so many other Ryobi tools and products.
To Read the Article in full, click here.
---
Ryobi 18-Volt 10-inch Dual-Bevel Sliding Miter Saw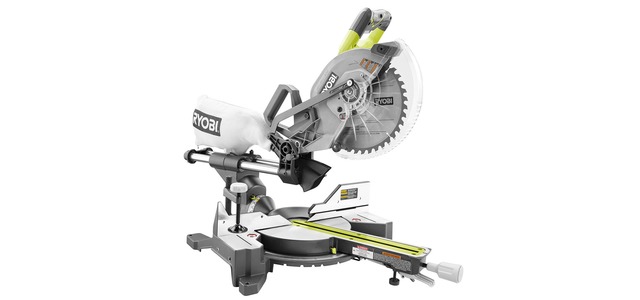 The Ryobi 18-Volt 10-inch Dual-Bevel Sliding Miter Saw (Model P3650) has been on the market a couple years now and proven itself. With its full feature set and attractive price, it's a good option for many people, DIY'ers and pros alike. Many people think of Ryobi as strictly a DIY brand, but the logic that pigeon holes a brand into a "DIY" or "pro" category is flawed. We've written a whole article on that subject. Here we'll take a look at this saw and tell you what it does and how well it does it.
---
Ryobi P3410 Grease Gun 18V One+ Video Review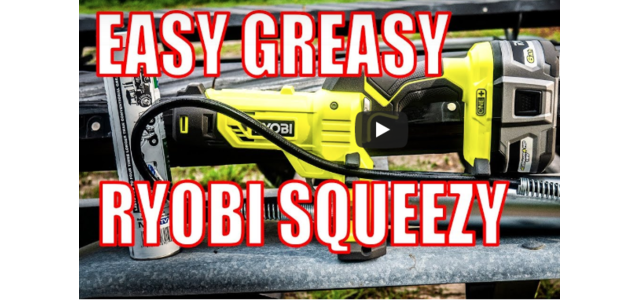 Using the Ryobi P3410 Grease Gun is very simple and it makes greasing much easier than using two hands to pump a manual grease gun. One charge on a battery will empty more than 15 grease cartridges. Bare tool price for the Ryobi grease gun is just $129.
Click here to read the full review.
---
Ryobi P3100 18V Hybrid Solder Station Video Review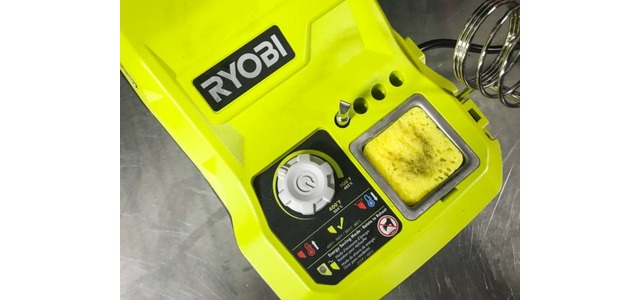 For some reason, splicing and repairing wires around the shop (in vehicles) has become a regular practice around here. The Ryobi P3100 18V hybrid solder station offers a freedom that others don't. Just stick in an 18V battery, or plug in an extension cord. In less than a minute, the soldering iron is up to temperature.
Ryobi P3100 18V Hybrid Solder Station Features
400F to 900F Power Dial
You can easily select your desired temperature, from 400F to 900F, with the power dial. An LED light shines red while the Ryobi P3100 is heating up. Once to temperature, the LED shines a solid green. Power down the Ryobi 18V hybrid solder station and the LED blinks red until it's cool. The actual soldering iron is attached to the base unit by a 3-foot cord. The Ryobi solder station base provides onboard tip storage, a tip-cleaning sponge, and iron holder for safe storage.
Extending runtime, the Ryobi P3100 will automatically shift into a lower heat mode, after 10 minutes of use. Just move the power dial to return to normal. After 20 minutes of use, the Ryobi 18V hybrid soldering station will turn itself off. Again, any movement of the power dial will return it to normal operation.
To watch the Full Video Review, Click Here.
---
Ryobi 18-Volt Hybrid Air Cannon Drum Fan Review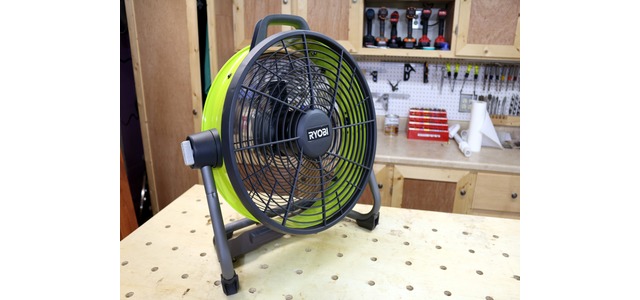 One of the things Ryobi has been doing that I particularly like is they have been releasing a lot of their 18 Volt tools in hybrid models. Their latest release is the Ryobi 18-Volt Hybrid Air Cannon Drum Fan.
In order for a tool from Ryobi to be labeled as a hybrid, it must be able to be operated by a battery or an electric cord. I love this concept. It allows the user to have the mobility of a battery tool and the long run time of a cord. Depending on the users need and/or access to an electrical source, they can choose how to power the tool.
About 4 years ago, all of the major tool brands started releasing small personal sized battery operated fans. Even though the fans looked very similar, there are differences that set them apart from each other. They differed by how loud they are, how much variable speed control they have and whether or not they are a hybrid model.
In case you are wondering, my absolute favorite small battery operated fan model is the Ridgid 18-Volt Hybrid Fan because it is the quietest, the variable speed control is completely adjustable and it is a hybrid model. It checks all of the boxes.
Ryobi seems to be leading the way and is first to market with a new and much larger size air mover which they have dubbed an "Air Cannon".
Ryobi 18-Volt Hybrid Air Cannon Drum Fan Review Features
First and foremost, this drum fan is a hybrid where it can be run off of a Ryobi 18-Volt battery or off of an extension cord. These receptacles are found on the back of the fan.
The fan can be rotated 220 degrees and held into place by tightening the knobs on the sides.
The body of the fan and the back grill are made of metal.
The fan blades and front grill are made from plastic.
Three different levels of fan speed on controlled from the back of the unit.
A top mount plastic handle makes the unit easy to carry.
There is a screw mounting hole on the base. This gives you the ability to mount this fan to a wall if necessary.
There is a 4-foot cord included with the fan. This is particularly nice if the only extension cord you have does not fit in the fan receptacle. For instance, if you have an extension cord with multiple receptacles at the end, it won't fit with this fan. The included 4-foot cord fixes that issue.
Ryobi 18-Volt Hybrid Air Cannon Drum Fan Review Performance
The airflow coming out of this fan is much greater than the smaller units that came out a few years ago. Ryobi claims this unit can make up to 2,400 CFM. With no way of proving or disproving this claim all I can say is that this unit sends out about the same air movement as a good box fan.
Even though the air flow is about the same, the noise from the Ryobi unit is noticeably quieter than a box fan. It is rated at 38 decibels and according to the meter on my phone, which was very close to what I was seeing. In case you don't have a frame of reference for decibels, this is very quiet.
This unit is very light, easy to move around and very adjustable. It is nearly perfect in these regards. The only way this could be better is if it not only rotated up and down but side to side as well. This would allow it to pivot in any direction without ever having to be moved.
The hybrid option on this fan is just awesome. I love this. I've used the small Hybrid Ridgid fan in the past with a cord so that I could keep a continuous flow of air going over some of my projects in order to try the polyurethane finish evenly. I've also used that fan during camping trips with a battery on low to cool me off at night.
Ryobi 18-Volt Hybrid Air Cannon Drum Fan Review Value
The Home Depot has the Ryobi 18-Volt Hybrid Air Cannon Drum Fan listed at $139.00. This includes the fan, and 4-foot cord, but no battery.
Even though I think everyone who owns Ryobi batteries should own and would love this unit, I feel the $139.00 price tag is just a little steep and would be a much better buy at $99.00
Ryobi 18-Volt Hybrid Air Cannon Drum Fan Review Final Thoughts
A battery operated fan wasn't really an item that I gave much attention to until I tried out a few of the small models released a few years ago. Since then, I've found them very useful and love that they are as mobile as they are. The one thing that wanted to see improved on was the amount of air flow produced.
It appears Ryobi has taken the battery operated fan to the next level and I am loving it.
To Read the Article in full, click here
---
Categories
Product Line